30's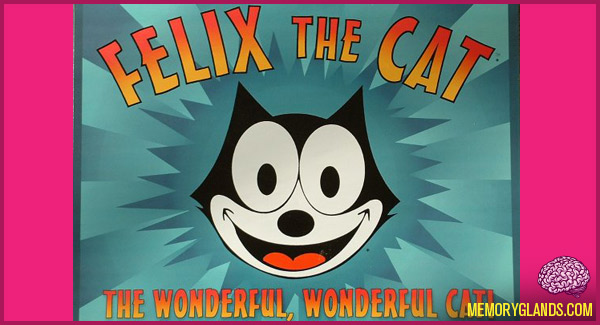 Felix the Cat is a cartoon character created in the silent film era. His black body, white eyes, and giant grin, coupled with the surrealism of the situations in which his cartoons place him, combine to make Felix one of the most recognized cartoon characters in film history. Felix was the first character from animation to attain a level of popularity sufficient to draw movie audiences. Click here to read more and watch a clip of Felix The Cat »
4 Comments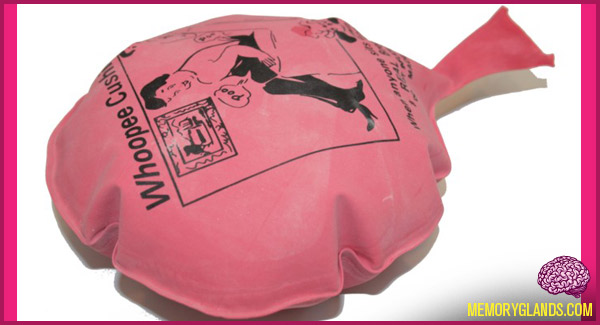 A Whoopee Cushion, also known as a poo-poo cushion and Razzberry Cushion, is a practical joke device, used in a form of flatulence humor, which produces a noise resembling a raspberry or human flatulence. It is made from two sheets of rubber that are glued together at the edges. There is a small opening with a flap at one end for air to enter and leave the cushion.
In the 1990s, a new era of technology allowed the production of self-inflating whoopee cushions (which use a springy foam to draw in more air) and remote-controlled whoopee cushions (electronic devices). In 2009, the world's largest production whoopie cushion called The Big Ripper was created by Redemption Plus.
5 Comments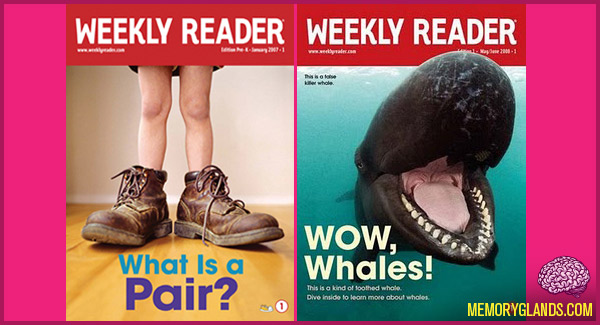 Weekly Reader is a weekly educational classroom magazine designed for children in grades Pre-K–12. It began in 1928 as My Weekly Reader.
In 2007, Weekly Reader Corporation became part of The Reader's Digest Association, based in Chappaqua, New York. Weekly Reader's main office was relocated from Stamford, Connecticut, to Chappaqua at the end of May 2007. Editions cover curriculum themes in the younger grade levels and news-based, current events and curriculum themed-issues in older grade levels. The publishing company also creates workbooks, literacy centers, and picture books for younger grades.
2 Comments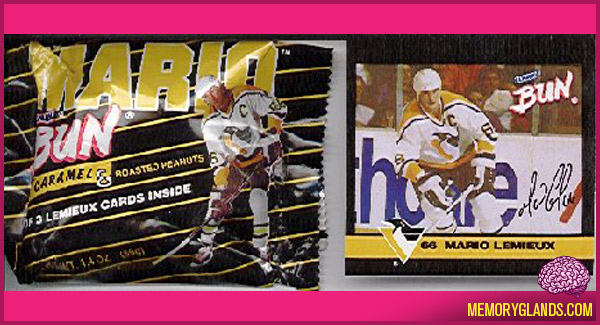 Bun Bars are a line of candy bars currently manufactured by Pearson's Candy Company of Saint Paul, Minnesota and available in the United States. Originally created in the 1920s by the Wayne Bun Candy Company and later bought out by Clark Bar, Pearson's picked up the brand in 1998. Pearson's acquired Bun Bars partially due the similarities in manufacturing the Bun as compared to their own Nut Goodie. While the two products are very similar, they still have recipe and ingredient differences that make each unique.
Bun Bars have one of three flavored centers (maple, vanilla, or caramel) covered in unsalted peanuts and milk chocolate. When first bought by Pearson's in 1998, maple and vanilla flavors were available, but later caramel was added to the line up. Despite the name, Bun Bars are not bars at all, but actually round, flat disks.
Growing up in Pittsburgh, we had Mario Bun Bars, in honor of Pittsburgh hockey great Mario Lemieux (pictured above).
1 Comment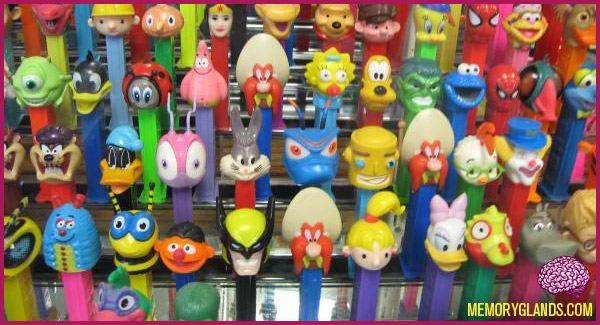 Pez (trademarked PEZ, in capitals) is the brand name of an Austrian confectionery and the mechanical pocket dispensers for the same. The confectionery itself takes the shape of pressed, dry, straight-edged blocks (15 mm (5/8 inch) long, 8 mm wide and 5 mm high), with Pez dispensers holding 12 Pez pieces.
The name Pez was derived from the letters at the start, the middle and the end of the German word for peppermint, Pfefferminz, the first Pez flavor. Pez was originally introduced in Austria in 1927, later exported, notably to the U.S., and eventually became available worldwide. The all-uppercase spelling of the logo echoes the trademark's style on the packaging and the dispensers themselves, with the logo drawn in perspective and giving the appearance that the letters are built out of 44 brick-like Pez confectioneries (14 bricks in the P and 15 in each of the E and Z). Click here to read more and see someone's serious Pez collection »
3 Comments
| | | |
| --- | --- | --- |
| | | |