03.19.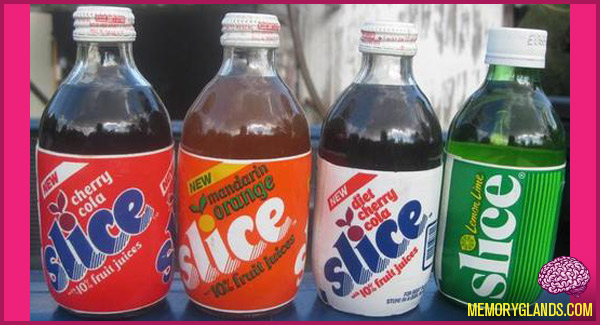 Slice is a line of fruit-flavored soft drinks manufactured by PepsiCo and introduced in 1984, with the lemon-lime flavor replacing Teem. Varieties of Slice have included apple, fruit punch, grape, passionfruit, peach glaze, Mandarin orange, pineapple, strawberry, Cherry Cola, "Red", Cherry-Lime, and Dr Slice. Until 1994, the drink contained 10% fruit juice.
The original design of the can was a solid color related to the flavor of the drink. These were replaced in 1994 with black cans that featured colorful bursts (once again, related to the flavor of the drink), along with slicker graphics. In 1997, the cans became blue with color-coordinated swirls. The original orange flavor was reformulated around this time with the new slogan, "It's orange, only twisted." Orange Slice has since been changed back to its original flavor.
In the summer of 2000, lemon-lime Slice was replaced in most markets by Sierra Mist, which became a national brand in 2003. The rest of the Slice line was replaced in most markets by Tropicana Twister Soda in the summer of 2005, although the Dr. Slice variety can still be found in some fountains.
In early 2006, Pepsi resurrected the Slice name for a new line of diet soda called Slice ONE. Marketed exclusively at Wal-Mart stores, Slice ONE was available in orange, grape and berry flavors, all sweetened with Splenda. As of 2009, Slice (orange, diet orange, grape, strawberry and peach flavors) was available solely from Wal-Mart Stores.
2 Comments