11.01.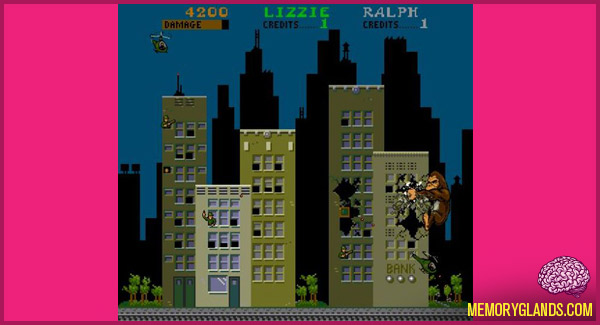 Rampage is a 1986 arcade game by Bally Midway. Players take control of gigantic monsters trying to survive against onslaughts of military forces. Each round is completed when a particular city is completely reduced to rubble.
Rampage was ported to most home computers and video game consoles of its time, including the Atari 2600, Atari 7800, Atari Lynx, Atari 8-bit, Atari ST, Commodore 64, MS-DOS/IBM PC, ZX Spectrum, Amstrad CPC, NES, and Sega Master System. The Atari Lynx version adds a special fourth character named Larry, a giant rat. The NES version excludes Ralph, reducing the number of monsters to two. Rampage was included as part of the Arcade Party Pak for the PlayStation in 1999. More recently, Rampage was included in 2003's Midway Arcade Treasures, a compilation of arcade games for the Nintendo GameCube, PlayStation 2, and Xbox. This game is also available as a bonus feature in Rampage: Total Destruction. Tiger Electronics released a handheld LCD version of the game in the 1990s. Rampage was also ported to iOS as part of the Midway arcade app.
The Amstrad CPC port (published by Activision) has in-game music ripped from the basement level of the arcade game Trojan, though strangely Trojan was never ported to the Amstrad, a finished version was completed for the ZX Spectrum by Clive Townsend and was to be published by Elite Systems, but was never officially released.
In July 2000, Midway licensed Rampage, along with other Williams Electronics games, to Shockwave for use in an online applet to demonstrate the power of the shockwave web content platform, entitled Shockwave Arcade Collection. The conversion was created by Digital Eclipse.
Unlike the original arcade game, most of the home ports (such as the NES, Sega, and Atari Lynx versions) actually end, rather than repeating levels endlessly.
About a decade later, a sequel was released entitled Rampage: World Tour, later followed by console-exclusive games including Rampage 2: Universal Tour, Rampage Through Time, and Rampage Puzzle Attack. The most recent game in the series is Rampage: Total Destruction.
1 Comment