09.26.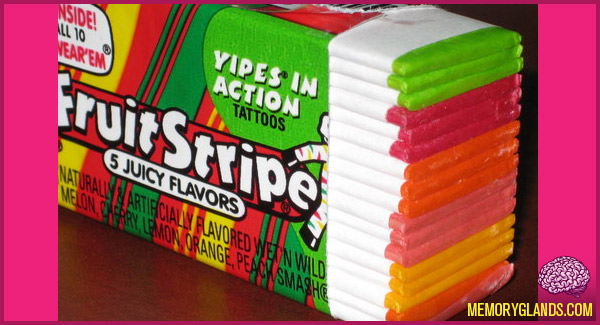 Fruit Stripe is an artificially and naturally flavored fruit chewing gum that is notorious for its strong but fleeting flavor. It is packaged in zebra-striped wrappers, and every stick now comes with one or more temporary tattoos. Three five-flavor packs are made: cherry, lemon, orange, mixed fruit, and lime; cherry, grape, mixed fruit, lemon, and cotton candy; sugar-free. However, an alternative version of the initial pack consists of wet 'n wild melon, cherry, lemon, orange, and peach smash. The product proudly holds claim that it is the only gum with painted-on stripes. In the late 1970s, there was a chocolate version called Chocolate Stripe.
The "Five Flavor Gum" was invented by James Parker and launched in the early 1960s as an extension of the Beech-Nut gum line. Farley's & Sathers Candy Company, Inc. acquired Fruit Stripes in 2003 from Hershey Foods Corporation.
In 1996, Fruit Stripe gave five cents from the sale of each Jumbo Pack and Variety Multipack to the World Wildlife Fund, totaling up to $100,000, for the preservation of endangered animals and their habitats.
7 Comments