08.22.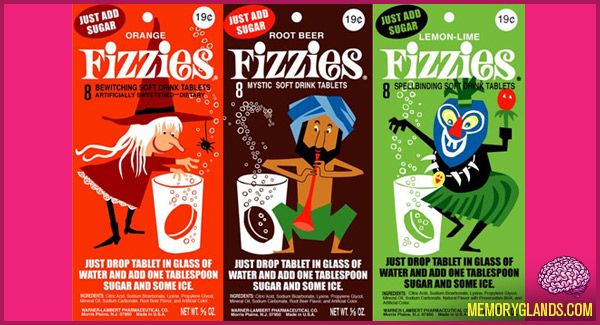 Fizzies are tablets that create a soft drink when added to water.
Lem Billings, a friend of President John F. Kennedy, invented the idea for Emerson Drug Company, manufacturer of Bromo-Seltzer, by adding a fruit flavor that children liked. Once perfected, Emerson named the creation Fizzies. The tablet was dropped into a glass of water, then fizzed and dissolved, creating a sweet, effervescent drink. Fizzies were first introduced by Emerson on a regional basis in July 1957. In 1962, the Emerson Drug Company was acquired by Warner Lambert Company, which sold the product nationally that same year. In the 1950s and 1960s Fizzies came in seven flavors: grape, orange, cherry, lemon-lime, strawberry, root beer, and cola. Fizzies' sales grew both nationally and internationally until 1968, achieving more than double the sales volume of Kool-Aid.
The successful beverage became a cultural icon of its time. In the motion picture National Lampoon's Animal House, set in 1962, Dean Wormer reads a list of pranks committed by members of the Delta House fraternity, which included dumping an entire truckload of Fizzies into a swimming pool during a varsity meet.
3 Comments