Video
12.15.
Zoot Suit Riot: The Swingin' Hits of the Cherry Poppin' Daddies (often shortened to Zoot Suit Riot) is a compilation album by American ska-swing band the Cherry Poppin' Daddies, released on March 18, 1997 on Space Age Bachelor Pad Records.
Self-produced by the Daddies to satisfy demand for their swing material while the group was between studio releases, Zoot Suit Riot consists of only the straight swing tracks compiled from the band's first three albums – which were predominantly punk and ska-oriented – plus four bonus tracks recorded exclusively for this compilation.
Released independently in March 1997, Zoot Suit Riot was eventually re-issued and nationally distributed by major label subsidiary Mojo Records following the Daddies' signing to the label. By early 1998, steady airplay of its titular single propelled the album to the top of Billboard's Top Heatseekers, helping serve as a catalyst for the short-lived swing revival of the late 1990s. At its peak, Zoot Suit Riot reached number seventeen on the Billboard 200, selling over two million copies in the United States.
No Comments
12.12.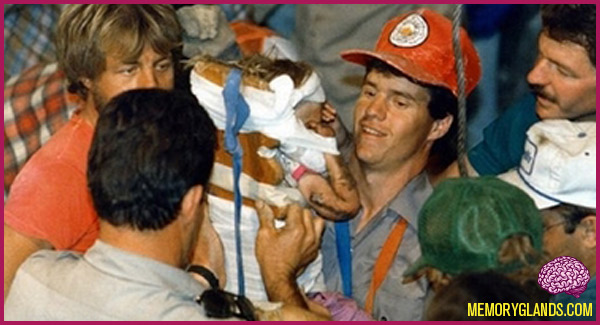 Jessica McClure Morales (born March 26, 1986) became famous at the age of 18 months after falling into a well in the backyard of 3309 Tanner Dr. Midland, Texas, on October 14, 1987. Between that day and October 16, rescuers worked for 58 hours to free "Baby Jessica" from the eight-inch-wide well casing 22 feet below the ground. The story gained worldwide attention (leading to some criticism as a media circus), and later became the subject of a 1989 ABC TV movie. As presented in the movie, a vital part of the rescue was the use of the then relatively new technology of waterjet cutting. Click here to watch some of the news coverage from that day »
3 Comments
11.09.
Introduced in 1992, the slogan for P.B. Crisps was "Peanut butter with a crunch."
3 Comments