07.20.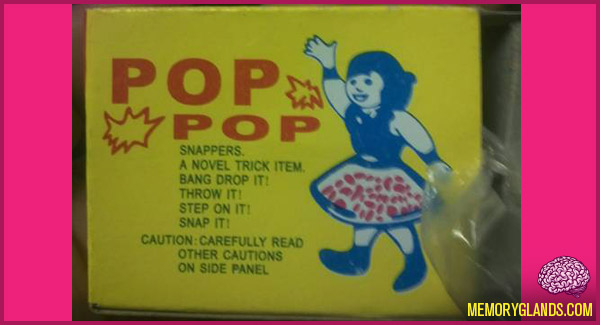 Bang snaps (also known as Snap-its, poppers, pop-its, snappers, whip'n pops, whipper snappers, fun snaps or snap'n pops) are a type of small novelty firework sold as a trick noisemaker.
Bang snaps consist of a small amount of gravel or coarse sand impregnated with a minute quantity (~.08 milligrams) of silver fulminate high explosive and twisted in a cigarette paper to produce a shape resembling a teardrop with a tail. When stepped on, ignited, or thrown on a hard surface, the friction-sensitive silver fulminate detonates, producing a sharp salute similar to that of a cap gun.
Despite producing a legitimate (albeit tiny) high-explosive detonation, the extremely high mass ratio of gravel to explosive acts as a buffer to ensure that the devices produce only the audible "crack" of the supersonic shockwave; they are incapable of producing physical damage, even if discharged directly against skin, and the detonation frequently fails to even break the thin paper holding the ingredients.[2] The explosion is also too weak to propel the gravel any distance, which usually falls to the ground. This makes them safe for use as a children's toy, for which purpose they have been widely sold across the world since the 1950s. They are also a common part of Chinese New Year celebrations.
1 Comment