06.08.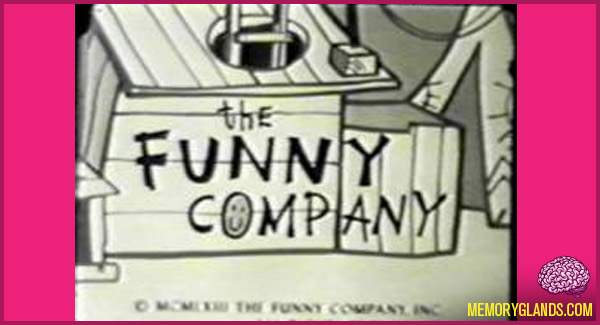 The Funny Company was an American animated cartoon produced in 1963 and seen in syndication. Ken Snyder and Charles Koren produced 260 six minute long episodes (they later would create the cult favorite Roger Ramjet). The Mattel Corporation provided financial backing. Snyder conceived the program in response to then-Federal Communications Commission (FCC) chairman Newton N. Minow's call for more educational children's programs.
The Funny Company group resembled a club not unlike a Junior Achievement organization, and most of the time, the stories would revolve around the Company being hired for various jobs to make a little money (doing yardwork, house cleaning, baby sitting, etc.) or doing something for charity (such as putting on shows).
Members included leader Buzzer Bell (rarely seen without his Funny Company visor), inventor Jasper N (for National) Park, club secretary Polly Plum, rotund Merry Twitter (the club treasurer), club mascot Terry Dactyl (an actual pterodactyl), shy Shrinkin' Violette (who could literally become smaller if she became embarrassed), and two Native American adults–Super Chief (named after the Santa Fe Railroad's crack passenger train) whose voice was an air horn of a single-chime railroad locomotive, and his translator Broken Feather. Another adult lending a hand was Professor Todd Goodheart with his supercomputer, the Weisenheimer.
Each segment included a two-minute live-action short educational film, reinforcing the topic being discussed. Initially produced in black and white, the series switched after one season to full color.
1 Comment