02.26.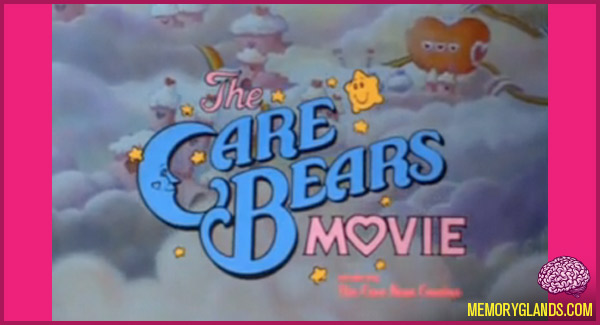 The Care Bears Movie is a 1985 animated adventure film, the second feature production from the Toronto animation studio Nelvana. One of the first films based directly on a toy line, it introduced the Care Bears characters and their companions, the Care Bear Cousins. In the film, orphanage owners tell a story about the Care Bears, who live in a cloud-filled land called Care-a-lot. Travelling across Earth, the Bears help two lonely children named Kim and Jason find new parents, and also save a young magician's apprentice named Nicholas from an evil spirit's influence. Deep within a place called the Forest of Feelings, Kim, Jason, and their friends soon meet another group of creatures, the Care Bear Cousins.
American Greetings Corporation, the owners of the Care Bears characters, began development of a feature film in 1981. Later on, the card company chose Toronto's Nelvana to produce it, granted them rights to the Care Bears characters, and financed the film along with cereal manufacturer General Mills and television syndicator LBS Communications. Nelvana's founders were on hand as producers, while fellow employee Arna Selznick directed. Production lasted eight months, cost no less than US$2 million, and took place in Canada, Taiwan, and South Korea. The voice cast included Mickey Rooney, Georgia Engel, Jackie Burroughs, Billie Mae Richards, and Cree Summer. Two pop music stars, Carole King and John Sebastian, contributed several songs.
Although major U.S. studios passed on the project, newly-established independent distributor The Samuel Goldwyn Company acquired it and soon spent a record US$24 million promoting it. The film premiered on March 24, 1985, in Washington, D.C. and entered wide release in around 1,000 North American theatres five days later.[nb 3] Another Nelvana work, Strawberry Shortcake Meets the Berrykins, played alongside the feature in theatres. The Care Bears Movie received mixed reviews from the outset; critics raised concern over its potential as a full-length advertisement for the title characters, among many other aspects. It went on to earn US$23 million domestically; as Canada's highest-grossing film during 1985 (with C$1.845 million), it won a Golden Reel Award. Nelvana's surprise hit also played in Europe, Australia, and Latin America. With over US$34 million in worldwide sales, it set a box-office record for Canadian and non-Disney animation, and has remained one of U.S. distributor Goldwyn's largest releases.
The movie's success saved Nelvana from closing, helped revive films aimed at children in the U.S. market, and has been cited as inspiring a spate of toy-based animated and live-action features. Nelvana produced two sequels in the next two years, A New Generation (1986) and Adventure in Wonderland (1987); neither surpassed the original financially or critically. The Care Bears franchise continues, and has included television series and specials, videos, and films.
No Comments