01.28.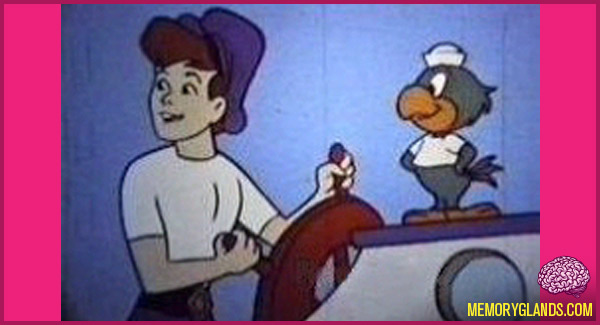 Sinbad Jr. and his Magic Belt, is a series of 5-minute adventures, which originally aired between 1965-1966, produced by Hanna-Barbera studios for American International Television division of American International Pictures, and were shown during a half-hour cartoon.
Sinbad Jr. (voiced by Tim Matheson) is the son of Sinbad, the famous sea explorer. He becomes superhuman getting his power from his magic belt. His first mate is the funny and loyal assistant Salty the Parrot (voiced by Mel Blanc). Matheson and Blanc were the voices used in the Hanna-Barbera versions.
Sinbad Jr., the Sailor was originally titled The Adventures of Sinbad, Jr. and produced for American International Television by Sam Singer, who had produced 1957's The Adventures of Pow Wow the Indian Boy, a very limited animated cartoon for CBS-TV's Captain Kangaroo series, and Courageous Cat and Minute Mouse. In an effort to improve the quality of the animation, production of the 1965 syndicated cartoons was taken over by Hanna-Barbera. Thus it became one of the few cartoons to be produced by two different studios.
It was renamed Sinbad Jr., the Sailor out of deference to the 1962 Toei Studios feature length cartoon, Adventures of Sinbad.
The rights to the series are now owned by AIP successor Metro-Goldwyn-Mayer – the very studio where the Hanna-Barbera team got its start.
No Comments