01.26.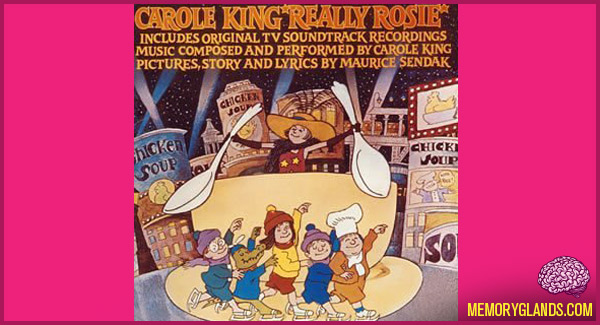 Really Rosie is a musical with a book and lyrics by Maurice Sendak and music by Carole King. The musical is based on Sendak's books Chicken Soup with Rice, Pierre, One was Johnny, Alligators All Around (which comprise The Nutshell Library (1962)), and The Sign on Rosie's Door (1960). Sendak based the story on a demonstrative little girl who used to sing and dance on the stoop of her building, whom he observed while he was a little boy growing up in Brooklyn.
The musical has become a mainstay of children's theater groups. It follows a typical summer day in the life of the Nutshell Kids, a group of several neighborhood friends, including Pierre, Alligator, Johnny, and Chicken Soup from the Nutshell Library books, and Rosie and Kathy from The Sign on Rosie's Door. Rosie, the self-proclaimed sassiest kid on her block of Brooklyn's Avenue P, entertains everyone by directing and starring in an Oscar-winning movie based on the exciting, dramatic, funny (and slightly exaggerated) story of her life. During its off-Broadway run, the lead role of Rosie was played by a-then 12-year-old Tisha Campbell-Martin.
A half-hour animated television special aired on CBS TV in February 1975. It was directed by Maurice Sendak, with Carole King voicing the title character. An album based on the songs by King and lyrics by Sendak is available on Ode/Epic/SME Records. In the animated special, only the first seven songs and Really Rosie (Reprise) were showcased. Sendak expanded the piece for London and Washington, DC, stage productions in 1978,[2] and an off-Broadway production, directed and choreographed by Patricia Birch with designs by Sendak, which opened on October 14, 1980, at the Westside Theatre, where it ran for 274 performances.
No Comments