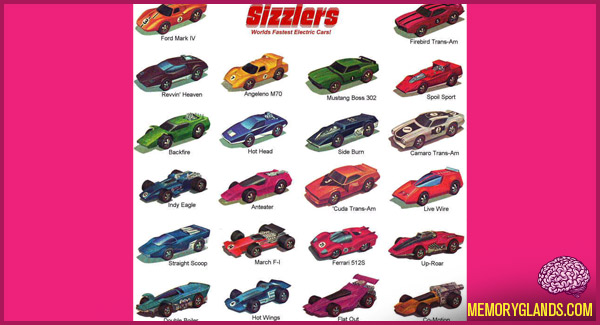 The Sizzlers were a 1970s Hot Wheels spin off with a built-in motor and a tiny rechargeable battery. (The X-V racers of the 90s were similar.) They were introduced in 1970 and became an instant smash. Sizzlers run on the regular "orange" Hot Wheels track, and Mattel created special race sets with U-Turns, multi-level spirals and loops to take advantage of the cars' electric motor. Two lane race sets such as the California/8 race set were developed that allowed Sizzlers to race side-by side, until Mattel created the black Fat Track, which is three lanes wide, with steep banked curves, and designed to allow Sizzlers to run free. In action, Sizzlers display a unique, competitive "passing action" when running on the Fat Track, as if each car were piloted by an impatient driver trying to jockey ahead of the rest. The Fat Track sets included the "Big O", "California 500″, and Super Circuit" race sets, and accessories such as the "Scramble Start" (a four-car starting gate), "Lap Computer" four car lap counter, and "Race-Timer" stop watch.
Six cars were made in 1970, 12 cars were made in 1971, and 4 cars were made in 1972. The "Fat Daddy" Sizzlers (oversized bodies with huge tires) were introduced in 1973. Mattel put the Sizzlers on a hiatus after that year, and in 1976 they created Sizzlers II. That next year, the Night Ridin' Sizzlers (which had headlights you could turn on or off) were created. Because of faded popularity (because of perhaps poor marketing, Mattel permanently stopped Sizzlers production in 1978.
1 Comment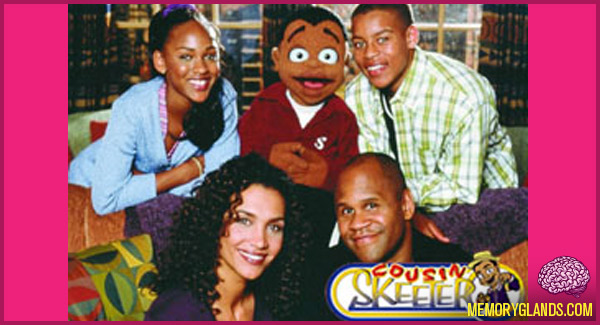 Cousin Skeeter is a television show which ran on Nickelodeon from 1998 to 2003. It starred Robert Ri'chard as Bobby, a young boy, whose life changed when his strange cousin Skeeter comes to live with his family. With Skeeter's help, Bobby learns life lessons and tackles the general ups and downs of growing up. The show also included Meagan Good as Bobby's friend Nina, Rondell Sheridan as Bobby's father Andre, and Angela Means as Bobby's mother Vanessa. Skeeter is portrayed by a live-hand puppet with Bill Bellamy providing his voice. Within the show, Skeeter is treated like a regular human and no mention of him being a puppet is made. Click here to watch the intro to the show »
4 Comments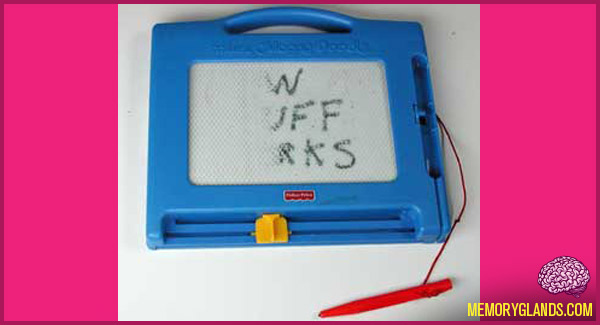 Magna Doodle is the original product name of a children's magnetic drawing toy, consisting of a drawing board, a magnetic stylus, and a few magnet shapes. Invented in 1974, over forty million units have been sold to date worldwide, under several brands, product names and variations.
The toy was originally produced as "Magna Doodle" by Tyco until 1998, when the manufacturing rights to most of Tyco's toy product line were sold to Fisher-Price. "Magna Doodle" is currently owned and produced by the Ohio Art Company, having formerly been distributed in the United Kingdom by Fisher-Price. Fisher-Price have produced their own alternative called the Doodle Pro. Click here to watch a commercial from 1992 »
3 Comments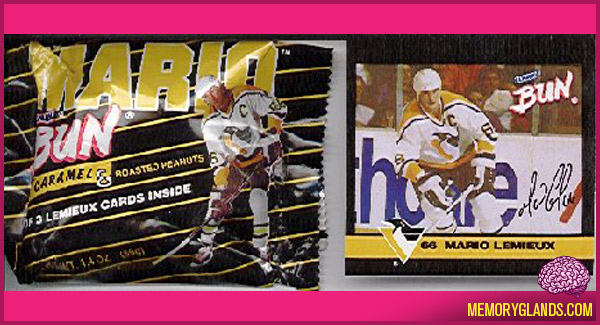 Bun Bars are a line of candy bars currently manufactured by Pearson's Candy Company of Saint Paul, Minnesota and available in the United States. Originally created in the 1920s by the Wayne Bun Candy Company and later bought out by Clark Bar, Pearson's picked up the brand in 1998. Pearson's acquired Bun Bars partially due the similarities in manufacturing the Bun as compared to their own Nut Goodie. While the two products are very similar, they still have recipe and ingredient differences that make each unique.
Bun Bars have one of three flavored centers (maple, vanilla, or caramel) covered in unsalted peanuts and milk chocolate. When first bought by Pearson's in 1998, maple and vanilla flavors were available, but later caramel was added to the line up. Despite the name, Bun Bars are not bars at all, but actually round, flat disks.
Growing up in Pittsburgh, we had Mario Bun Bars, in honor of Pittsburgh hockey great Mario Lemieux (pictured above).
1 Comment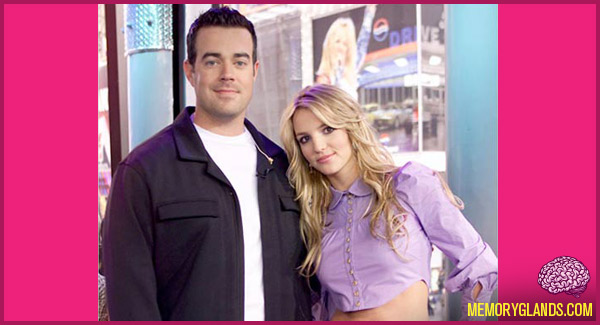 Total Request Live (commonly known as TRL) is a television series on MTV that featured popular music videos. TRL was MTV's prime outlet for music videos as the network continues to concentrate on reality-based programming. In addition to music videos, TRL featured daily guests (such as innocent Britney Spears above). The show was a popular promotion tool used by musicians, actors, and other celebrities to promote their newest works to the show's target teen demographic.
TRL played the top ten most requested videos of the day, as requested by viewers who voted online for their favorite video. The countdown started with the tenth most requested video and ended with the most requested. As of October 22, 2007, TRL's countdown was based on votes, charts, ringtones, download, radio airplay, and streams, meaning that the most user requested video might not have been the number 1 video. The show generally aired Monday through Thursday for one hour, though the scheduling and length of the show fluctuated over the years. Despite the word "Live" in the title of the show, many episodes were actually pre-recorded. Backstreet Boys' "Shape Of My Heart" has the most amount of number ones, with 63 out of 65 days. Click here to see a clip from the finale »
3 Comments