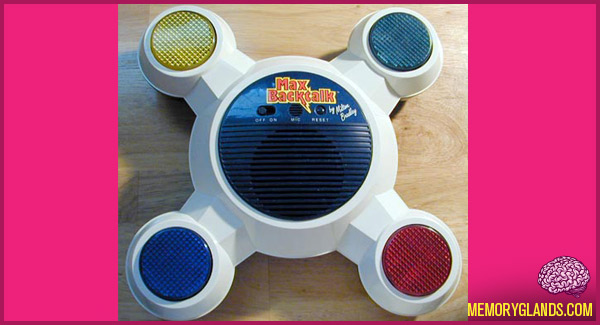 Released in 1986, Max Backtalk is an electronic memory/reaction game that uses the player's own voices. To begin, each player sits by a colored button and speaks a word into the microphone. The game starts by Max flashing a player's light and repeating that player's word. The player scores a point by quickly pressing his or her button. If your reaction time is too slow you lose a point. Max then calls another player's word and so on. Be careful – Max can also bluff by calling one player's word and lighting another player's light. Any player that reacts would then lose a point. The longer you play, the faster the words are spoken and the lenses light. The player with the most points at the end is the winner. An elimination version, and a simple memory game (ala Simon) can also be played. Click here to watch the commercial with Michael Winslow from the Police Academy movies »
No Comments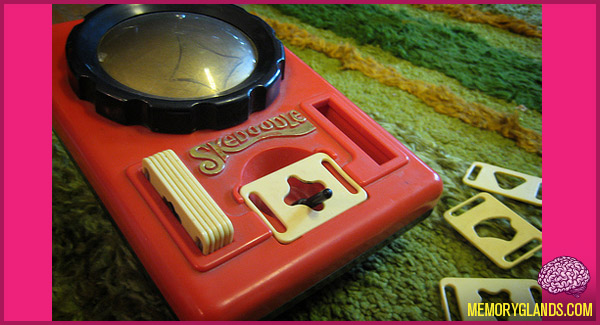 If an Etch-a-Sketch and a Spirograph had sex, this would be their baby. Click here to watch one in action »
1 Comment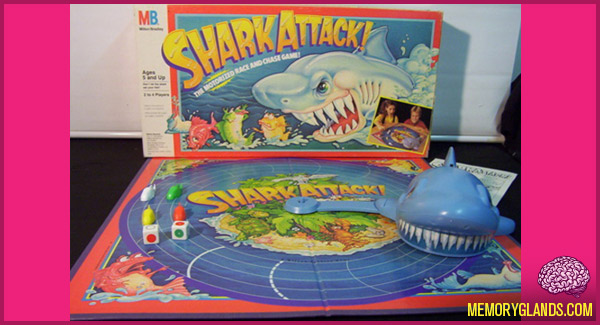 Created in 1988, Shark Attack was a board game in which the shark goes around in a circle devouring fish. The last fish left un-eaten is the winner.
The back of the box read:
DON'T GET GULPED!
It's a race! And a chase! And a swim-for-your-life escape! You are one of four little fish that encounter a shark with a ferocious appetite. You've got to move — and move fast!
Roll the dice and move your fish. But watch out! If you're not fast enough, the motorized shark creeps up behind and swallows your fish. You're out of the game. The last fish to escape that shark's bite wins the game. Click here to watch the commercial »
1 Comment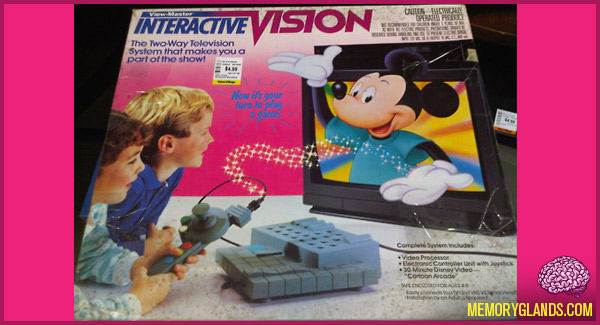 View-Master Interactive Vision is an interactive VHS console game system, introduced in 1988 by View-Master Ideal Group, Inc. The tagline was that the console was "the Two-Way Television System that makes you a part of the show!" The titles included four Sesame Street games, and two games featuring the Muppet Show characters, as well as a Disney game, Disney's Cartoon Arcade.
The system came with a simple controller which included a joystick and three colorful buttons. As the video plays, the characters address the player directly, and ask the player to make a choice by pressing one of the buttons.
The video has a number of different soundtracks recorded, and the player's choices toggle back and forth between the soundtracks, giving the impression that the player has changed the course of the story. For example, in the game Muppets Studios Presents: You're the Director, Kermit the Frog leads the player through the process of making a Muppet movie. At the end of the game, he asks if the player liked the movie they've created. If the player gives a positive response, then the Muppets sing a closing number called "Everything Was Wonderful!" If the player responds negatively, the closing number is "Everything Was Terrible!" Click here to watch some gameplay »
No Comments
| | | |
| --- | --- | --- |
| | | |