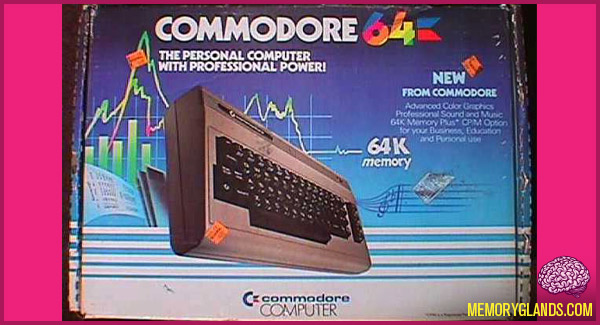 The Commodore 64 is an 8-bit home computer introduced by Commodore International in January 1982. Volume production started in the spring of 1982, with machines being released on to the market in August at a price of $595. Preceded by the Commodore VIC-20 and Commodore MAX Machine, the C64 features 64 kilobytes (65,536 bytes) of memory, hence the name, with sound and graphics performance that were superior to IBM-compatible computers of that time. It is commonly known as the C64 or C=64 (after the graphic logo on the case) and occasionally as the CBM 64 (for Commodore Business Machines), or VIC-64. It has also been affectionately nicknamed the "breadbox" and "bullnose" due to the shape and color of its initial casing. Click here to read more and watch a commercial from 1985 »
2 Comments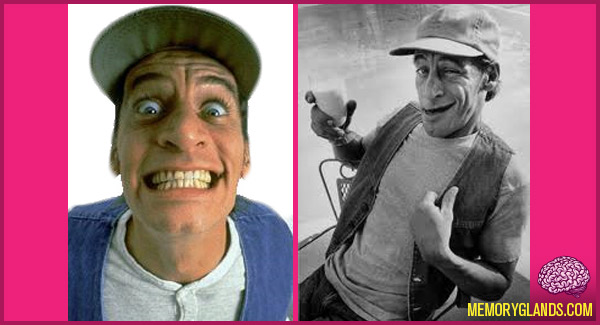 Ernest P. Worrell is a fictional character most principally portrayed by the late American actor Jim Varney in a series of television commercials, and later in a television series (Hey Vern, It's Ernest!) as well as a series of feature films. Ernest was created by the Nashville advertising agency Carden and Cherry and was used in various local television ad campaigns. Click here to read more and watch a commercial with Earnest »
1 Comment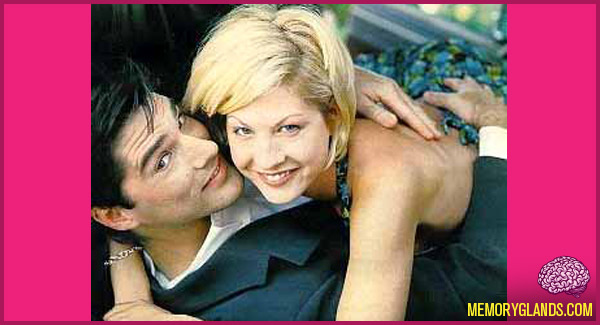 Dharma & Greg is an American television situation comedy. It starred Jenna Elfman and Thomas Gibson as Dharma and Greg Montgomery, a couple who married instantly on their first date despite being complete opposites. The series was co-produced by Chuck Lorre Productions, More-Medavoy Productions and 4 to 6 Foot Productions in association with 20th Century Fox Television for ABC. It aired from September 24, 1997, to April 30, 2002. The show's theme song was written and performed by composer Dennis C. Brown.
Created by executive producers Dottie Dartland and Chuck Lorre, the comedy took much of its inspiration from so-called culture-clash "fish out of water" situations. The show earned eight Golden Globe nominations, six Emmy Award nominations, and six Satellite Awards nominations. Elfman earned a Golden Globe in 1999 for Best Actress. Click here to watch a clip from the pilot »
No Comments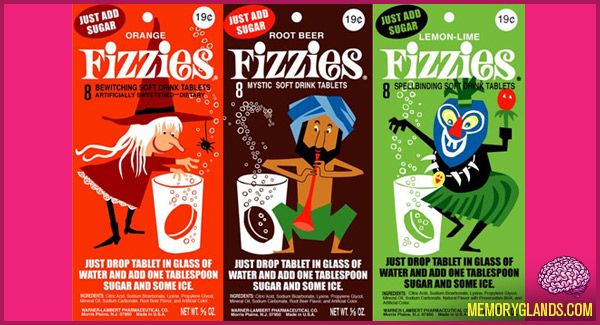 Fizzies are tablets that create a soft drink when added to water.
Lem Billings, a friend of President John F. Kennedy, invented the idea for Emerson Drug Company, manufacturer of Bromo-Seltzer, by adding a fruit flavor that children liked. Once perfected, Emerson named the creation Fizzies. The tablet was dropped into a glass of water, then fizzed and dissolved, creating a sweet, effervescent drink. Fizzies were first introduced by Emerson on a regional basis in July 1957. In 1962, the Emerson Drug Company was acquired by Warner Lambert Company, which sold the product nationally that same year. In the 1950s and 1960s Fizzies came in seven flavors: grape, orange, cherry, lemon-lime, strawberry, root beer, and cola. Fizzies' sales grew both nationally and internationally until 1968, achieving more than double the sales volume of Kool-Aid.
The successful beverage became a cultural icon of its time. In the motion picture National Lampoon's Animal House, set in 1962, Dean Wormer reads a list of pranks committed by members of the Delta House fraternity, which included dumping an entire truckload of Fizzies into a swimming pool during a varsity meet. Click here to watch a clip of Fizzies on Food Network's Unwrapped »
3 Comments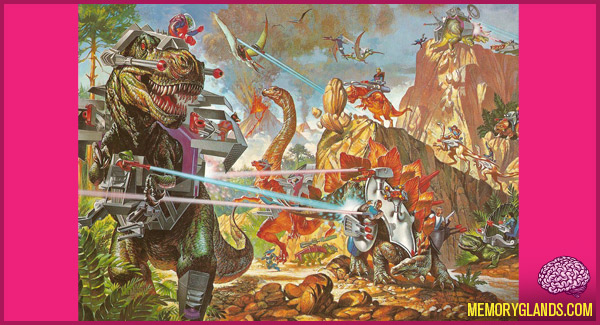 Dino-Riders is a cartoon television series that first aired in 1988. Dino-Riders was primarily as a promotion to launch a new Tyco toy line. Only fourteen episodes were produced, three of which were produced on VHS for the United States. It aired in the U.S. as part of the Marvel Action Universe.
The series focuses on the battle between the good Valorians and evil Rulons on prehistoric Earth. The Valorians were a super human race, whilst the Rulons were a mixture of humanoid creatures — both of which came from the future, however ended up transported back in time to the age of Dinosaurs. Once on Earth, the Valorians befriended dinosaurs whilst the Rulons brain-washed them. Click here to watch the intro to the show »
No Comments