03.06.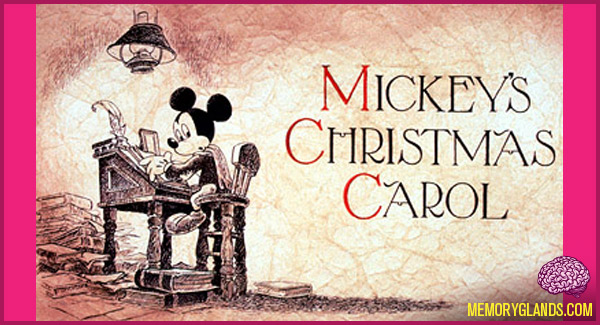 Mickey's Christmas Carol is a 1983 American animated fantasy short film produced by Walt Disney Productions and distributed by Buena Vista Distribution Company. It was directed and produced by Burny Mattinson. The cartoon is an adaptation of Charles Dickens' 1843 novella A Christmas Carol with Mickey Mouse as Bob Cratchit and Scrooge McDuck as his namesake and inspiration, Ebeneezer Scrooge. Many other Disney characters, primarily from the Mickey Mouse universe, Robin Hood, and The Adventures of Ichabod and Mr. Toad, were cast throughout the film.
Mickey's Christmas Carol was largely an animated adaptation of a Disneyland Records 1974 audio musical entitled An Adaptation of Dicken's Christmas Carol. The musical featured similar dialogue and cast of characters with the exception of the first and last Christmas ghosts.
This was the first original Mickey Mouse theatrical cartoon produced in over 30 years. With the exception of rereleases, Mickey had not appeared in movie theaters since the short film The Simple Things released in 1953. Many additional characters seen in the film had also not appeared in a theatrical cartoon for several decades. The film was also the last time in which Clarence Nash voiced Donald Duck. Nash was the only original voice actor in the film as Walt Disney (Mickey Mouse) and Pinto Colvig (Goofy) had died in the 1960s, Cliff Edwards (Jiminy Cricket) and Billy Gilbert (Willie the Giant) in 1971, and Billy Bletcher (Pete) in 1979.
The film was nominated for an Academy Award for Best Animated Short Film in 1984, but lost to Sundae in New York. It was the first nomination for a Mickey Mouse short since Mickey and the Seal (1948).
No Comments