03.29.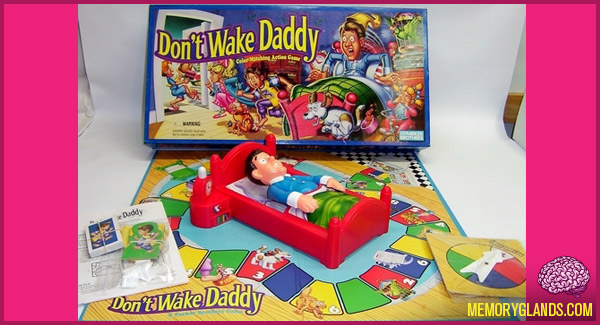 Don't Wake Daddy is a children's board game published by Parker Brothers, a subsidiary of Hasbro. It is intended for two to four players.
Players take the role of children sneaking to the refrigerator late at night, trying not to wake their sleeping father (who lies in the middle of the board on a large bed). Movement is determined by using a spinner and moving accordingly. If players make one of several "noises" (that is, if the color of a noise space does not match the color of a preassigned card that they hold), they must push an alarm clock next to "Daddy" a certain number of times; after enough pushes, the clock will go off and "Daddy" will suddenly jerk upright from his bed (as if just having awakened from a nightmare), at which point the player claims the corresponding color card from a player that has it, then returns to the beginning of the board.
Parker Brothers introduced the game at the 1992 American International Toy Fair. It was picked as the sixth best toy of the year (third-best among girls) in the DuracellKids' Choice National Toy Survey, and was one of the best-selling games of the 1992 Christmas season. Parker Brothers spokesperson Ronni Heyman described the game as "a real sleeper". The game's success was cited as a contributing factor in Hasbro's 46% increase in net income after the fourth quarter of 1992. Parker Brothers later released a smaller travel version of the game.
1 Comment