View-Master Interactive Vision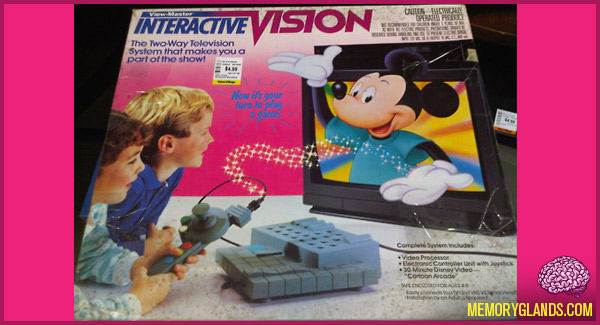 View-Master Interactive Vision is an interactive VHS console game system, introduced in 1988 by View-Master Ideal Group, Inc. The tagline was that the console was "the Two-Way Television System that makes you a part of the show!" The titles included four Sesame Street games, and two games featuring the Muppet Show characters, as well as a Disney game, Disney's Cartoon Arcade.
The system came with a simple controller which included a joystick and three colorful buttons. As the video plays, the characters address the player directly, and ask the player to make a choice by pressing one of the buttons.
The video has a number of different soundtracks recorded, and the player's choices toggle back and forth between the soundtracks, giving the impression that the player has changed the course of the story. For example, in the game Muppets Studios Presents: You're the Director, Kermit the Frog leads the player through the process of making a Muppet movie. At the end of the game, he asks if the player liked the movie they've created. If the player gives a positive response, then the Muppets sing a closing number called "Everything Was Wonderful!" If the player responds negatively, the closing number is "Everything Was Terrible!" Click here to watch some gameplay »
No Comments