TV Show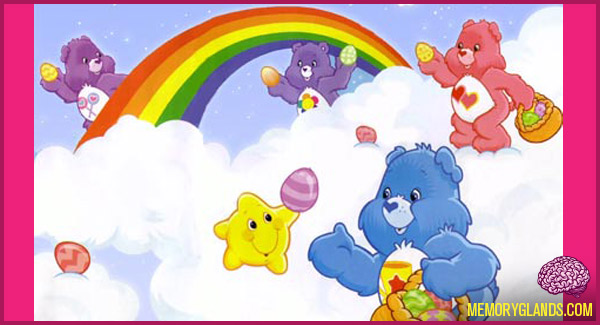 The Care Bears are characters created by American Greetings in 1981 for use on greeting cards. In 1983, Kenner turned the Care Bears into plush teddy bears. The Care Bears appeared in their own TV specials called The Care Bears in the Land Without Feelings (1983) and The Care Bears Battle the Freeze Machine (1984). They also had their own television series from 1985 to 1988, in addition to three feature films: The Care Bears Movie (1985), Care Bears Movie II: A New Generation (1986), and The Care Bears Adventure in Wonderland (1987).
Each Care Bear comes in a different color and has a specialized insignia on its belly that represents its duty and personality. This insignia was known as their "tummy symbol." However, the movie Care Bears: Oopsy Does It! renamed them "belly badges". Adding to the Care Bear family are the "Care Bear Cousins", which feature a lion, rabbit, penguin, raccoon, and other such animals created in the same style as the teddy bears. Click here to watch the intro »
1 Comment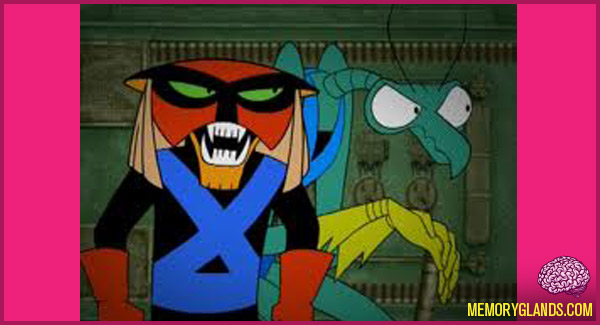 Space Ghost Coast to Coast (often abbreviated SGC2C) is an American animated parody talk show hosted by the 60s Hanna-Barbera cartoon character Space Ghost. The show was purportedly shot and broadcast from Ghost Planet. The show premiered on April 15, 1994 on Cartoon Network. Though originally intended to cater to a wide audience of children, teens, and adults, Space Ghost Coast to Coast became more offbeat and edgy in its direction, and transformed into the launchpad for what would become the Adult Swim network. SGC2C was also Cartoon Network's first completely original series. Click here to watch an episode with Conan O'Brien »
2 Comments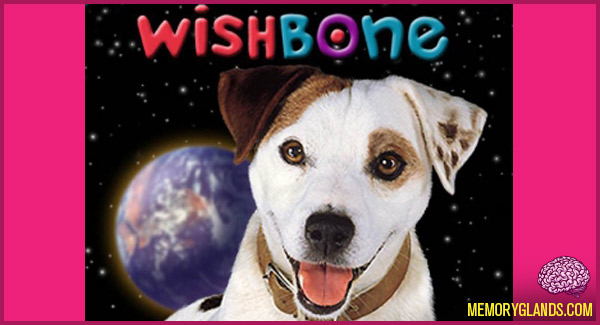 Wishbone is a television show which aired from 1995 to 1998 and reruns from 1998 to 2001 in the United States featuring a Jack Russell Terrier of the same name. The main character, the talking dog Wishbone, lives with his owner Joe Talbot in the fictional modern town of Oakdale, Texas. As he tends to daydream about being the lead character of stories from classic literature, drawing parallels between the stories and events in the lives of Joe and his friends, he was known as "the little dog with a big imagination". Click here to watch the intro »
4 Comments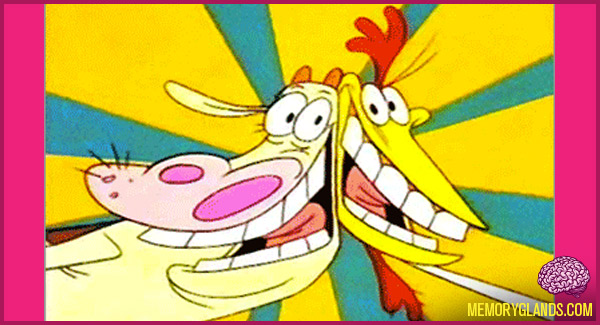 Cow and Chicken is an American animated series, created by David Feiss. The series shows the surreal adventures of a cow, named Cow, and her chicken brother, named Chicken. They are often antagonized by "The Red Guy", who poses as various characters to scam or hurt them. The series was nominated for an Emmy Award in 1996 and 1998. Click here to read more and watch the opening theme »
2 Comments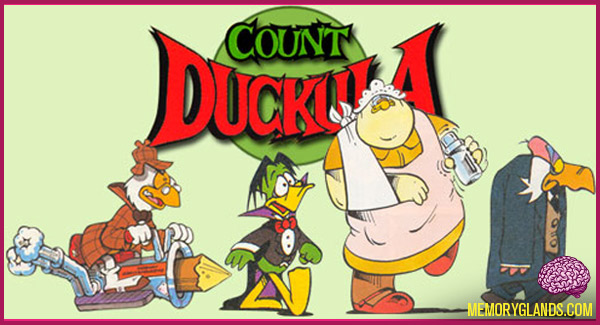 Count Duckula is a British animated television series created by British studio Cosgrove Hall, and a spin-off from DangerMouse, a show in which the Count Duckula character was a recurring villain. The series first aired on September 6, 1988 and was produced by Thames Television for 3 seasons and Central Television for the fourth and final series. In all, 65 episodes were made, each about 22 minutes long. All 65 episodes have been released to DVD in Region 2, while only the first series has been released in Region 1. Both the series as well as its characters continue to have a large following on the internet.
The show is a loose parody of the story of Count Dracula. Set in Transylvania, Duckula lives in a spooky castle known as Castle Duckula, alongside his butler Igor, and his large nanny (always referred to as "Nanny" and perpetually wearing an arm sling). Click here to watch the into and a clip from the show »
No Comments