03.29.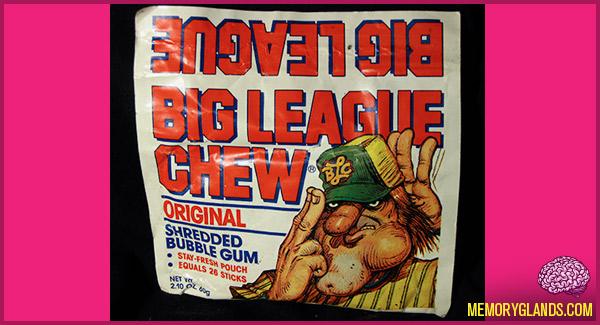 Big League Chew is a brand of bubble gum that is shredded and packaged in an aluminum foil pouch. It was created by Portland Mavericks left-handed pitcher Rob Nelson, and pitched to the Wrigley Company (longtime owners of the Chicago Cubs) by former New York Yankee All-Star Jim Bouton, a Maverick teammate of Nelson's, as a fun alternative to the unhealthy tobacco-chewing habit common among ballplayers in the 1970s. Over 500 Million Pouches of Big League Chew Bubblegum have been sold since 1980.
Big League Chew was introduced in May of 1980, in the traditional pink color already seen in established brands of bubble-gum. The cartoony packaging, originally designed by artist Bill Mayer, comes in flashy colors such as neon green and bright purple.LeBron James was reportedly a devoted fan of Big League Chew before signing an endorsement deal with Bubblicious.
In addition to the "Outta Here" Original flavor, it comes in "Ground Ball" Grape, "Wild Pitch" Watermelon, and "Swingin' Sour" Appleflavors. Currently it is manufactured in the USA by Ford Gum & Machine Company in Akron, NY, after taking over distribution rights from Wrigley and moving production from Mexico at the end of 2010.
The original advertising slogan throughout the 1980s, which is still featured today, stated, "You're in the big leagues when you're into Big League Chew!"
1 Comment