09.09.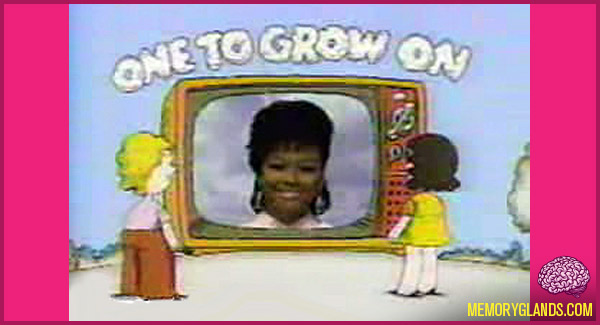 One to Grow On is an educational public service announcement (PSA) that broadcast during NBC's Saturday morning line-up from 1983 to 1989 when the network ran cartoons. One to Grow On focuses on ethical and personal safety dilemmas and attempts to teach viewers how to solve them. The PSA appeared immediately after the end credits of an NBC cartoon, such as ABC did with Schoolhouse Rock! and CBS with In the News.
The segments are hosted by the stars of NBC primetime series, including Michael J. Fox, Michael Gross, and Justine Bateman from Family Ties, Mr. T and Dwight Schultz from The A-Team, Soleil Moon Frye from Punky Brewster, David Hasselhoff from Knight Rider, Kim Fields, Nancy McKeon, Lisa Whelchel, and Charlotte Rae from The Facts of Life, Richard Moll from Night Court, Malcolm Jamal-Warner and Tempestt Bledsoe from The Cosby Show, Perry King and Thom Bray from Riptide, Joel Higgins and Rick Schroder from Silver Spoons, Kadeem Hardison from A Different World, Estelle Getty and Betty White from The Golden Girls, and Michael Landon from Highway to Heaven. In an unusual move, René Enríquez from the adult oriented prime time show Hill Street Blues also hosted a segment.
The PSAs begin with an animated sequence that leads into an animated TV on which an actor appears. After the actor introduces himself or herself, a live-action sequence appears, in which a child faces an ethical dilemma. One to Grow On cuts back to the actor, who explains to the viewer how to solve the problem. The child then rectifies the situation. The actor ends the segment by saying, "And that's One to Grow On."
One to Grow On was replaced by The More You Know in September 1989.
No Comments