The Quick Draw McGraw Show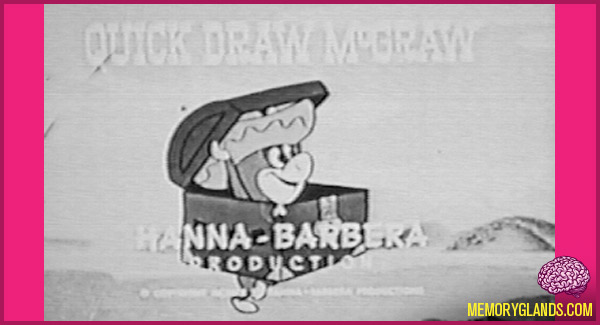 The Quick Draw McGraw Show is the third cartoon television production created by Hanna-Barbera starring an anthropomorphic cartoon horse named Quick Draw McGraw following their success with The Ruff & Reddy Show and The Huckleberry Hound Show. The show debuted in syndication in the fall of 1959, sponsored by Kellogg's. Voice actor Daws Butler performed the lead character, Quick Draw. The series featured 3 cartoons per episode, one each by Quick Draw McGraw & Baba Looey, father and son dog duo Augie Doggie & Doggie Daddy and cat and mouse detectives Snooper & Blabber.
Michael Maltese crafted most of the episode stories. Screen Gems originally syndicated the series, followed later by Rhodes Productions, Taft H-B Program Sales, Worldvision Enterprises, then Turner Broadcasting, and now Warner Bros. Television (through their 1996 purchase of Turner). Currently, the show is aired on the Cartoon Network's sister channel, Boomerang, the Canadian station Teletoon Retro and occasionally on the Infinity channel, broadcasting in the Middle East.
No Comments