10.01.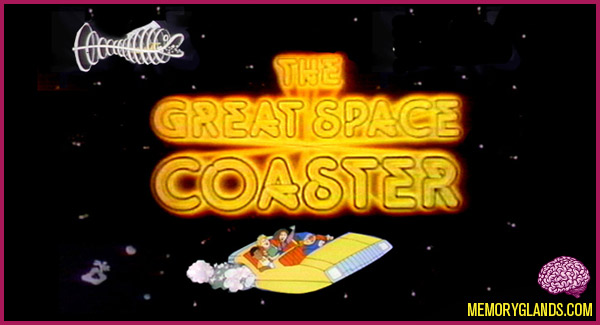 The Great Space Coaster is a children's television show that ran from 1981 through 1986. The series was co-created by Kermit Love, original Muppet designer and builder for Jim Henson; and Jim Martin, who later went on to work on a number of Henson-related projects.
The show is about three young singers (Francine, Danny, and Roy) who are brought to a habitable asteroid in space by a puppet clown character named Baxter who pilots the "space coaster", a rollercoaster-like spaceship. The asteroid is populated by strange-looking, wise-cracking puppet characters like Goriddle Gorilla, Knock-Knock the Woodpecker, Edison the Elephant and Gary Gnu, who hosts "The Gary Gnu Show". Baxter is forever on the run from M.T. Promises, a nefarious circus owner (played by an actor wearing a full-body character suit) who plans to re-capture Baxter and return him to the circus he worked at before he escaped. Each episode ends with a different life lesson, and various celebrity guest stars (such as Mark Hamill (of Star Wars fame) and Marvin Hamlisch (composer of The Spy Who Loved Me), etc.) occasionally dropped by.
In each episode, Roy shows a short film on his portable, fold-up TV, often featuring segments from La Linea, an Italian animated series about a little man who is drawn (using a single line) at the beginning of the segment and then springs to life, communicating with his animator through high-pitched Italian mixed with gibberish. Francine, Roy, and Danny sing a song together in each episode (sometimes originals like "Wacky Talk", sometimes older songs like "Be a Clown" or covers of '60s and '70s hits), and the various puppet characters often sing songs as well. A few years into the show's run the MTV-like "Rockin' with Rory" segment began, where a DJ puppet would introduce "Danny and the Spacecoasters" performing cover tunes. While the action was mostly videotaped on the space set, it wasn't unusual for the characters to venture down to Earth for filmed musical numbers.
4 Comments