03.07.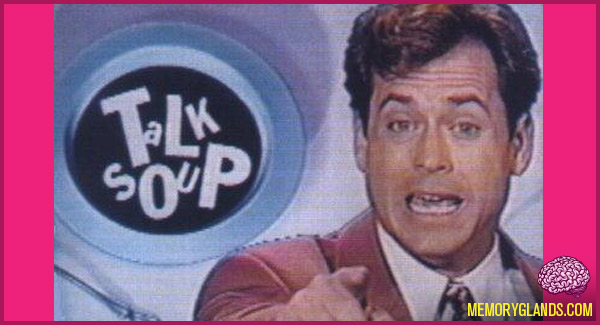 Talk Soup is a television show produced for cable network E! that debuted on January 7, 1991, and aired until August 2002. Talk Soup aired selected clips of the previous day's daily talk shows—ranging from daytime entries like The Jerry Springer Show and to celebrity interview shows like The Tonight Show—surrounded by humorous commentary delivered by the host. Although Talk Soup poked fun at the talk shows, it also advertised the topics and guests of upcoming broadcasts of them.
Some of the humor is derived from the reactions to the jokes by various stagehands, who either chuckle softly or groan depending on the severity of the joke. The show used a computerized backdrop of moving spoons, with the same animations of the spoons playing on one side of the screen after being shown on the opposite side in a repeating fashion, behind the show's host. One episode was recorded in front of a live studio audience. A similar version, The Soup, now airs weekly on E!.
The show frequently poked fun at actors Randolph Mantooth and Mario Van Peebles. Also featured was a womanizing Argentine sock puppet named Señor Sock that had bought several Thighmasters because he was madly in love with Suzanne Somers.
No Comments