04.05.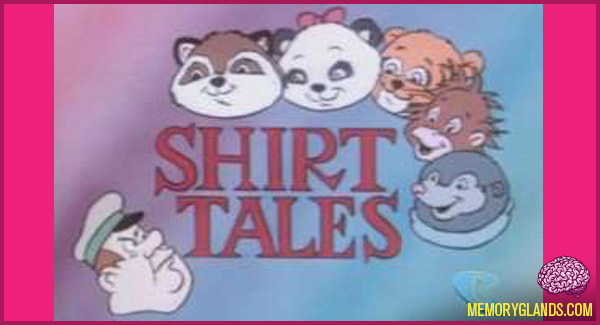 The Shirt Tales are characters that were created in 1980 by greeting card designer, Janet Elizabeth Manco, and were featured on Hallmark Cards greeting cards. The characters were adapted into an animated series of the same name, which first aired in 1982.
The animated Shirt Tales cartoon featured Tyg Tiger (in orange), Pammy Panda (in pink), Digger Mole (in light blue), Rick Raccoon (in red), and Bogey Orangutan (in green) (so called because he spoke using a Humphrey Bogart-style voice). They lived in Oak Tree Park and wore shirts which flashed various brightly lit messages reflecting the characters' thoughts. They spent their time teasing the park ranger, Mr. Dinkle, and battling crime in and out of their hometown of Mid City. They zipped around the world in a vehicle known as the STSST (Shirt Tales' SuperSonic Transport) which could operate as a car, jet, boat, submarine, and other forms of transportation. Though most law enforcement agencies knew of the Shirt Tales as crime fighters by reputation, few people seemed aware that they were talking animals—including, in the first season, Mr. Dinkle, whom the group often had to trick to keep their secret safe.
Each episode was divided into two 11–minute segments. After the success of the 13 episodes in season one, ten episodes were created for season two. After the TV show's successful first season, Kip Kangaroo (in yellow) was added to the cast of characters without context for her joining the Shirt Tales. Additionally, Mr. Dinkle was aware that his charges were secretly the Shirt Tales.
4 Comments