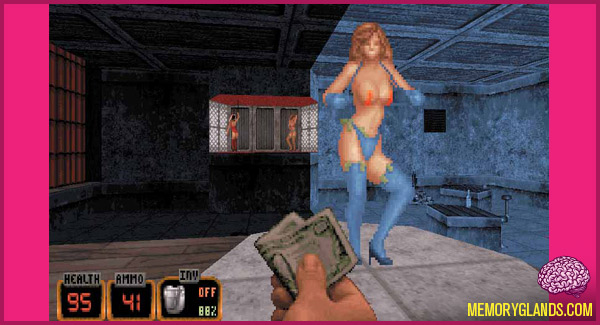 Duke Nukem is a fictional character and action hero who has been the protagonist in over a dozen video games.
The character first appeared in the 1991 video game Duke Nukem (also temporarily known as "Duke Nukum") developed by Apogee Software. He has since starred in multiple sequels developed by 3D Realms, and presently by Gearbox Software who have since bought the rights to Duke Nukem and own the intellectual property. The character was created by video game developers Todd Replogle, Jim Norwood, George Broussard, and Scott Miller of Apogee Software. The character was redesigned into the present tough guy incarnation by George Broussard and Allen Blum for the 1996 game Duke Nukem 3D. Click here to read more and see some footage from Duke Nukem 3D »
1 Comment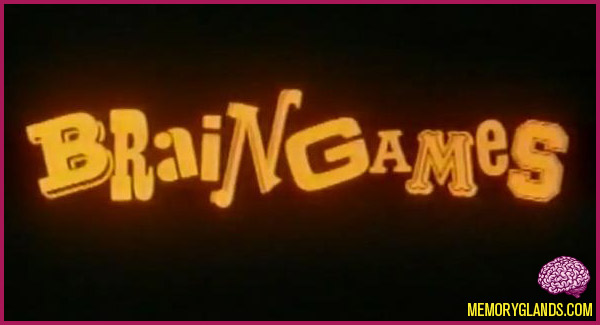 Braingames was an educational program shown on HBO in the mid-1980s. It was a half-hour program consisting of brain-teasing animated skits (either stop-motion or cartoon) designed to make the viewers think.
The series pilot was aired in 1983, with another five episodes made in 1984-1985 with new games and a few brought back from the pilot. After that, an episode called "The Best of Braingames" was made which had five of the best Braingames games from episodes 1, 3, and 4, plus a special episode of "The Riddler" where Chuck Roast read off the winners of a contest for "The Absotively Posolutlely Worst Riddle in America". Every episode in the series ends with a sad and teary voice saying, "Braingames is now…over." On the final episode, an even sadder voice says, "Braingames is now over…for good."
Although full episodes have not been shown in years, HBO has occasionally shown single games between programs in the 1990s. In 1996-2000, full episodes were later shown occasionally each month on HBO Family.
No Comments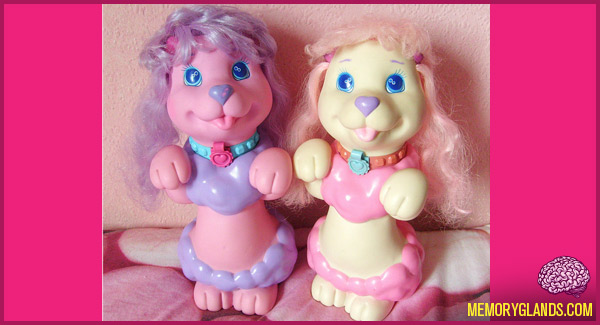 The Shampoodle was a toy produced by Hasbro in the 90′s. It was a plastic/vinyl poodle with curly brushable hair that sat in an upright/begging position. It came in a few different colors and they came with a comb and a small measuring cup. The locket on the collar opened and you could pour in some of your own shampoo and bathwater with the special measuring cup. You then closed the locket and squeezed Shampoodle's belly to mix the shampoo and water. Doing so would create suds that came out of small holes in the top of it's head and then you could style or wash the poodle's hair with it.
2 Comments
Captain Caveman and the Teen Angels is an animated series created by Joe Ruby and Ken Spears and produced by Hanna-Barbera Productions from September 10, 1977 to June 21, 1980 on ABC.
The first and second seasons were originally broadcast as segments on the package shows Scooby's All-Star Laff-A-Lympics and Scooby's All-Stars from 1977 to 1979 and the third season featured Captain Caveman and the Teen Angels in their own half-hour timeslot in 1980. Click here to watch the intro »
No Comments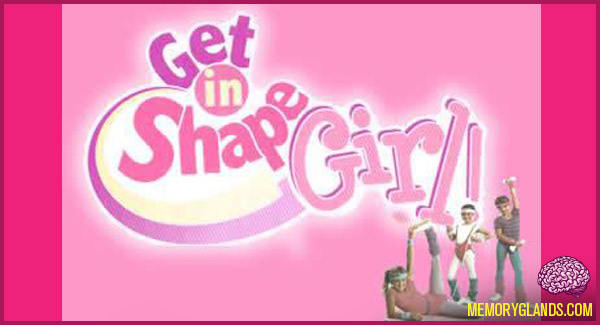 Get in Shape Girl is an American toy originally created by Hasbro in the 1980s. It was re-released in the mid-2000s under the toy company Arbor Toys, popular for their "pretend play" lines. The toy is an exercise kit designed for young females to have safe and fun exercise at home. Click here to see a commercial and a few more pics »
No Comments