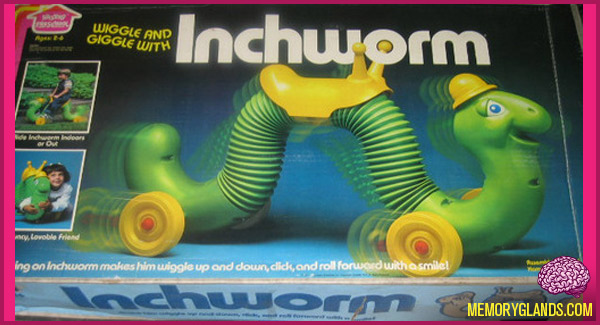 The Inchworm was a ride-on toy for children produced by the Hasbro Corporation, first introduced in the early 1970s. A scooter with yellow wheels in the shape of a green caterpillar wearing a yellow hat, the Inchworm was jointed under the saddle so its wheelbase could expand and contract. The wheels were constricted by a ratchet mechanism to rotating forward. As the rider bounced up and down on the saddle, the toy moved forward in a way somewhat resembling a Geometer caterpillar, with the ratcheting wheels making a clicking sound. Click here to watch a commercial from 1983 »
No Comments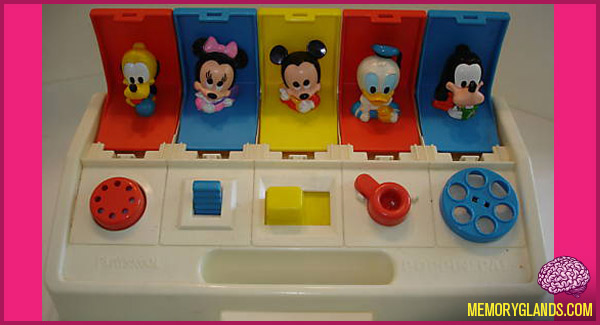 What's cuter than the Disney characters? Those same Disney characters as babies. Write that down.
2 Comments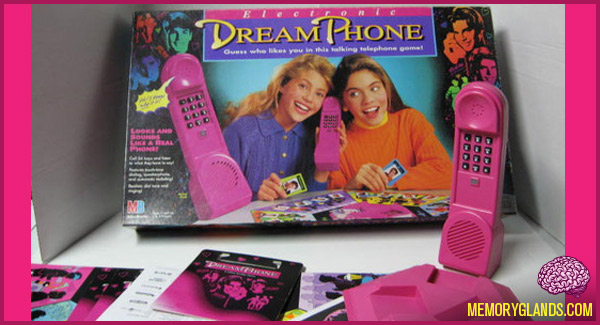 Introduced in 1991, the back of the box read: "Play a boy's photo card and call his number on the electronic touch-tone phone! Listen to a clue about your Secret Admirer's clothes, sports, foods or special hang-outs. Then search the gameboard to identify who it is and who it isn't. Calls are private unless someone plays a Speakerphone card – then everyone hears that clue! If it's a Share a Secret card, just you and one friend listen together! To guess who your admirer is, make a special call to that boy. If you hear him say, "You're right! I really like you!," you win the game! The game changes every time you play. Boys give different clues and the Secret Admirer changes, too!" Click here to watch a commercial »
No Comments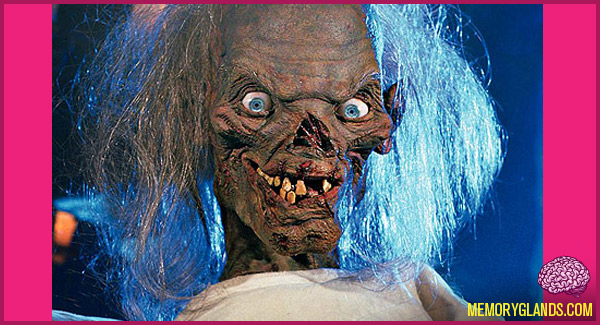 Tales from the Crypt, sometimes titled HBO's Tales from the Crypt, is an American horror anthology television series that ran from 1989 to 1996 on the premium cable channel HBO. The title was based on the 1950s EC Comics series of the same name and most of the content originated in that comic or the four other EC Comics of the time (Haunt of Fear, Vault of Horror, Crime SuspenStories, and Shock SuspenStories). The show was produced by HBO with uncredited association by The Geffen Film Company and Warner Bros. Television (all part of a production consortium officially called Tales From The Crypt Holdings). The series is not to be confused with the 1972 film by the same name or Tales from the Darkside, another similarly themed horror anthology series.
Because it was aired on HBO, a premium cable television channel, it was one of the few anthology series to be allowed to have full freedom from censorship by network standards and practices as a result, HBO allowed the series to contain graphic violence as well as other content that had not appeared in most television series up to that time, such as profanity, gore, nudity and sexual situations, which could give the series a TV-MA rating for today's standards. The show is subsequently edited for such content when broadcast in syndication or on basic cable. Click here to watch the intro »
2 Comments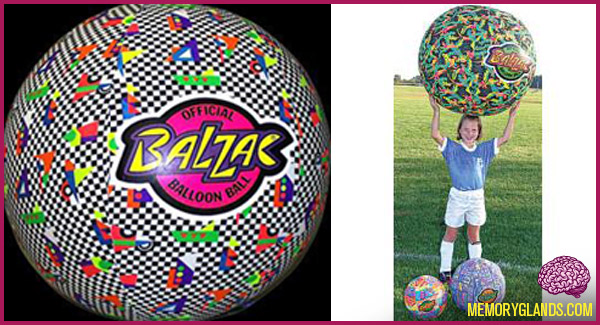 "Looks like a ball, but it's really a durable 100% cotton sack with a latex balloon inside. Soft, gentle balls are great for indoor and outdoor play. Each ball comes with a balloon bladder. Colors and designs vary." Click here to watch a commercial for Balzac »
2 Comments
| | | |
| --- | --- | --- |
| | | |