Headache is a board game similar to Trouble in which the object is to land a playing piece on top of all opponents' pieces (known as "cones"). The game is distinct from Trouble in that there is no finish the player must reach. Play moves in circles, until only one player has cones remaining on the board, being declared the winner. All players are welcome to occupy any space throughout the game, provided die roll allows, and there are eight spaces that serve as "safe" spots, where a cone resting on this space cannot be captured. Captured pieces are not sent back to start, but are permanently lost.
Like Trouble, Headache has its dice in a Pop-o-matic bubble in the center of the board. The bubble is pressed to roll the dice. But unlike Trouble, which has a single die in the bubble, Headache has two dice. One die is a regular die featuring the numbers one through six. The other is blank on five sides, and has a red dot on the sixth side. The red dot, if rolled allows for an extra turn.
Headache was first introduced in 1968 by the Kohner Brothers. It is currently manufactured by Milton Bradley.
No Comments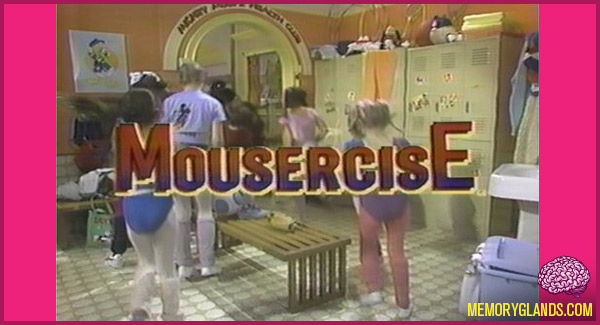 Mousercise was a television series inspired by the above album that debuted on the Disney Channel in 1983. The series, one of the channel's first, featured Kellyn Plasschaert, along with Mickey Mouse and other Disney characters. It continued to run until the channel's relaunch. Click here to watch the intro to the show »
1 Comment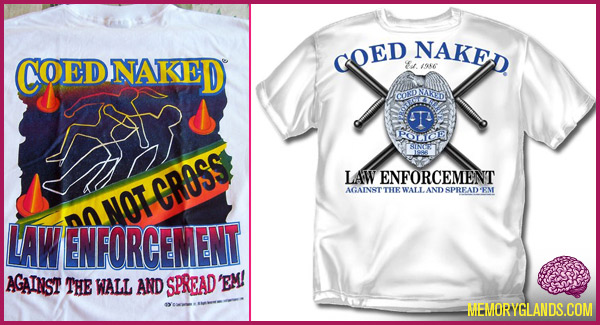 Founded in 1990, these shirts were produced by Coed Sportswear, Inc.
No Comments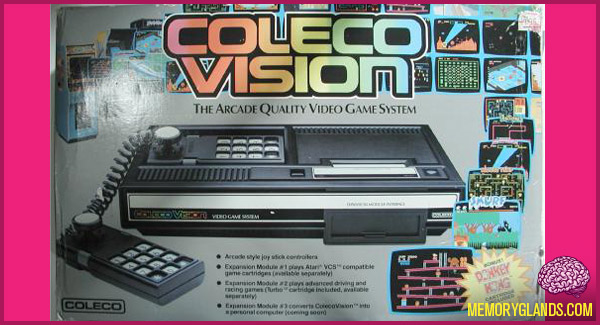 The ColecoVision is Coleco Industries' second generation home video game console which was released in August 1982. The ColecoVision offered arcade-quality graphics and gaming style, and the means to expand the system's basic hardware. Released with a catalog of 12 launch titles, with an additional ten games announced for 1982, approximately 145 titles in total were published as ROM cartridges for the system between 1982 and 1984. River West Brands currently owns the ColecoVision brand name.
In 2009, IGN named the ColecoVision their 12th best video game console out of their list of 25, citing "its incredible accuracy in bringing current-generation arcade hits home." Click here to watch a commercial from the 80's »
2 Comments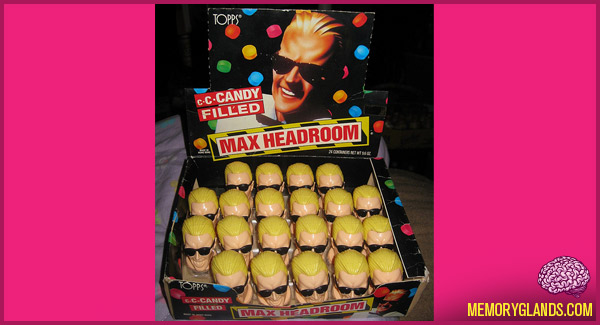 Max Headroom is a fictional British artificial intelligence, known for his wit and stuttering, distorted, electronically sampled voice. The character was created by George Stone, Annabel Jankel, and Rocky Morton in the mid nineteen eighties, and portrayed by Matt Frewer as "The World's first computer generated TV host" although the computer generated appearance was achieved with prosthetic make up as the computer technology of the time was not sufficiently advanced to achieve the desired effect. Preparing the look for filming involved a four-and-a-half hour session in make up which Matt Frewer described as "a very painful, tortuous and disgusting enterprise." Click here to watch him in a Coke commercial »
4 Comments
| | | |
| --- | --- | --- |
| | | |