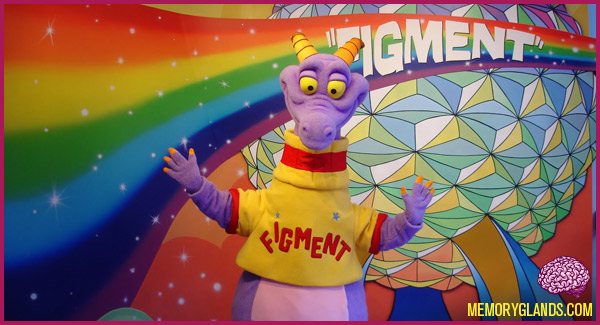 Figment, a small purple dragon, occasionally seen sporting a yellow sweater, is the mascot of the Imagination! pavilion at the Epcot theme park at Walt Disney World Resort. He is extensively seen in Epcot merchandise.
The Journey Into Imagination pavilion opened with the rest of EPCOT Center on October 1, 1982, but the Journey Into Imagination dark ride did not open until March 5, 1983. In the original attraction, Dreamfinder, a jolly wizard-like scientist, teaches Figment how to use his imagination. Figment is meant to be the literal embodiment of the phrase "figment of the imagination". He is composed of various elements Dreamfinder found in his travels including two tiny wings, large yellow eyes, the horns of a steer (or dilemma, according to a 1983 appearance on the Today Show), a crocodile's snout, and the childish delight found at a birthday party. Figment is described in detail in the Dreamfinder's song "One Little Spark" (by the Sherman Brothers). Dreamfinder introduces him: "Two tiny wings, eyes big and yellow, horns of a steer, but a lovable fellow. From head to tail, he's royal purple pigment, and there, voila, you've got a Figment."
1 Comment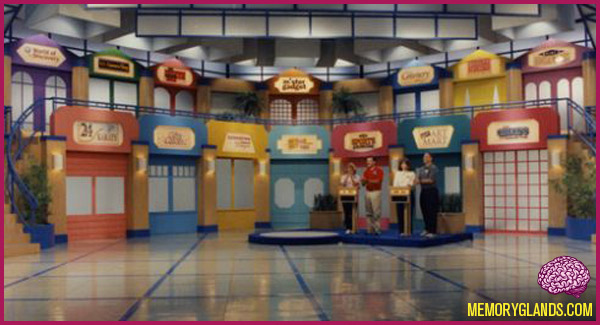 Shop 'til You Drop is an American game show that aired on various broadcast television networks from 1991–2006. The series was hosted by Pat Finn from 1991–2002, followed by JD Roberto from 2003–2005. Co-hosts/announcers included Mark L. Walberg (1991–1994), Jason Grant Smith (1996–1997), Dee Bradley Baker (1997–2002), and Don Priess (2003–2005). From its premiere through 2002, the backdrop of Shop 'til You Drop was a 14-store, two-story shopping mall.
The show ran on Lifetime from July 8, 1991 to September 30, 1994, with reruns aired until May 31, 1996. After four months, the show moved to The Family Channel as The New Shop 'til You Drop, where it ran from September 30, 1996 to August 14, 1998.
PAX (now ION) reran episodes of The Family Channel version from April 19 to October 29, 1999, followed by the final Lifetime season from November 1, 1999 to March 31, 2000. On April 3 of that year, PAX launched a new mall-based Shop 'til You Drop series and continued until 2002. A new warehouse store-based version began airing on PAX on October 6, 2003 and aired until 2005; reruns of that series continued until 2006.
A PAX episode from 2000 aired as part of The 50 Greatest Game Shows of All Time series on Game Show Network (GSN), featuring a 950-point total by a winning team. The network purchased the rights to the one episode and does not currently own rights to any reruns. Click here to watch a clip from the show »
1 Comment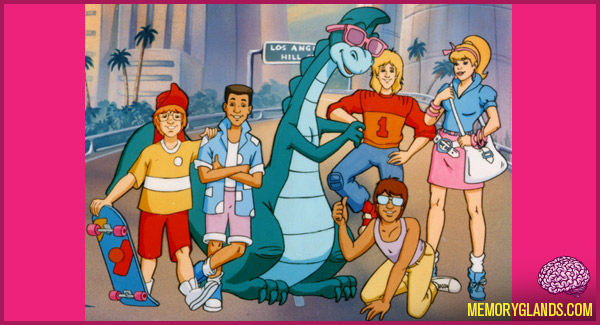 Denver, the Last Dinosaur is a U.S.-French cartoon for children originally released in 1988 by World Events Productions (the same company responsible for the English dubs of Voltron and for Saber Rider and the Star Sheriffs). It was nationally syndicated throughout the United States in 1988 with reruns airing until 1990. Episodes often focused on issues of conservation, ecology, and friendship.
The show ran for two seasons, as the dinosaur boom that had followed The Land Before Time waned, causing viewership to drop. The series received a recommendation from the National Educational Association. Click here to watch the intro »
1 Comment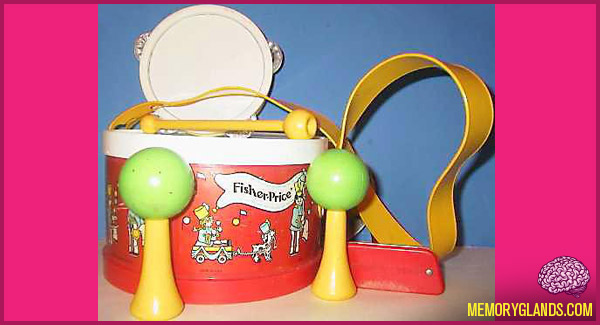 Who didn't have one of these??
2 Comments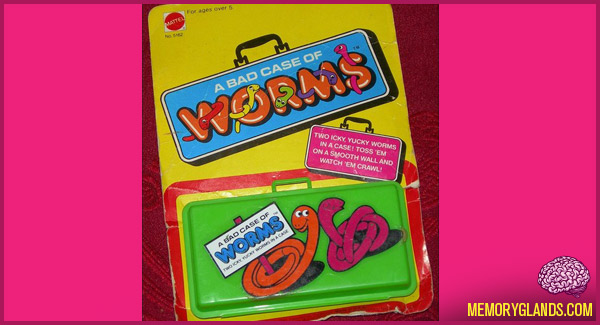 Each small plastic briefcase opened to reveal a pair of sticky, worm figures in various colors.
No Comments
| | | |
| --- | --- | --- |
| | | |