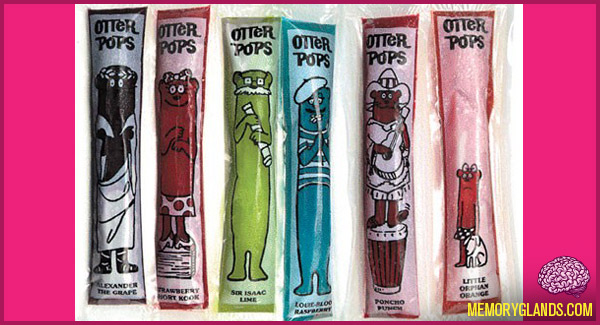 Otter Pops are a brand of frozen snacks sold in the United States. The product consists of a plastic tube filled with flavored sugary liquid. After freezing, one end of the tube is cut off, allowing the frozen juice to be eaten, something like a Popsicle without a stick.
Otter Pops were introduced by National Pax in 1970, to rival Jel Sert's similar product, Fla-Vor-Ice. In 1996, Jel Sert acquired the rights to Otter Pops, as well. During the 2000s, Jel Sert modified the recipe for Otter Pops to add more fruit juice. The new formula equates to three grams of sugar and 15 calories in each one-ounce serving. The company's manufacturing facilities are located in Chicago. Otter Pops come in eight flavors, each named after a different character:
Blue (blue raspberry) – Louie-Bloo Raspberry
Pink (tropical punch) – Poncho Punch
Yellow (lemon) – Rip Van Lemon (discontinued in the mid-1970s)
Green (lemon-lime) – Sir Isaac Lime
Red (strawberry) – Strawberry Short Kook
Purple (grape) – Alexander the Grape
Orange (orange) – Little Orphan Orange
Dark Green (kiwi) – Kiwi Kensie
Clear (mystery) – Mystery Miles
Jel-Sert has also released a line of tropical flavors, distinguished by their lighter colors:
Light Blue (berry punch)
Red (watermelon)
White (pineapple)
Pink (tropical punch)
Light green (citrus punch)
Yellow (banana)
No Comments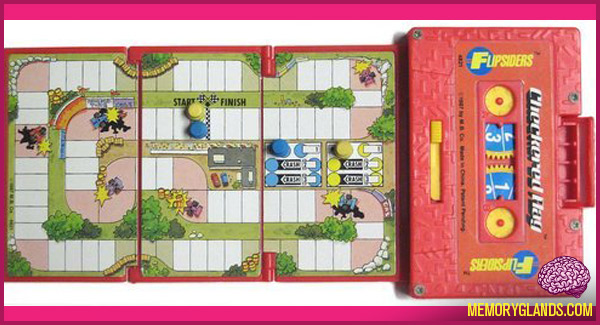 The Flipsiders series of games from Milton Bradley all came in plastic cases designed to look like audiotape cassettes. The board flips out from the cassette-sized case, and the "reels" of the cassette are spinners for random numbers or events. The magnetic pawns are stored in the part of the "cassette" where the tape heads normally would read/write the tape.
No Comments
Zoot Suit Riot: The Swingin' Hits of the Cherry Poppin' Daddies (often shortened to Zoot Suit Riot) is a compilation album by American ska-swing band the Cherry Poppin' Daddies, released on March 18, 1997 on Space Age Bachelor Pad Records.
Self-produced by the Daddies to satisfy demand for their swing material while the group was between studio releases, Zoot Suit Riot consists of only the straight swing tracks compiled from the band's first three albums – which were predominantly punk and ska-oriented – plus four bonus tracks recorded exclusively for this compilation.
Released independently in March 1997, Zoot Suit Riot was eventually re-issued and nationally distributed by major label subsidiary Mojo Records following the Daddies' signing to the label. By early 1998, steady airplay of its titular single propelled the album to the top of Billboard's Top Heatseekers, helping serve as a catalyst for the short-lived swing revival of the late 1990s. At its peak, Zoot Suit Riot reached number seventeen on the Billboard 200, selling over two million copies in the United States.
No Comments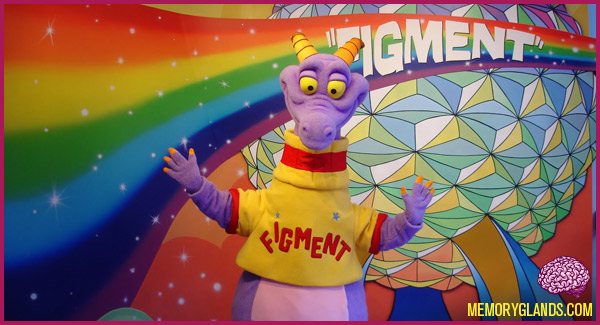 Figment, a small purple dragon, occasionally seen sporting a yellow sweater, is the mascot of the Imagination! pavilion at the Epcot theme park at Walt Disney World Resort. He is extensively seen in Epcot merchandise.
The Journey Into Imagination pavilion opened with the rest of EPCOT Center on October 1, 1982, but the Journey Into Imagination dark ride did not open until March 5, 1983. In the original attraction, Dreamfinder, a jolly wizard-like scientist, teaches Figment how to use his imagination. Figment is meant to be the literal embodiment of the phrase "figment of the imagination". He is composed of various elements Dreamfinder found in his travels including two tiny wings, large yellow eyes, the horns of a steer (or dilemma, according to a 1983 appearance on the Today Show), a crocodile's snout, and the childish delight found at a birthday party. Figment is described in detail in the Dreamfinder's song "One Little Spark" (by the Sherman Brothers). Dreamfinder introduces him: "Two tiny wings, eyes big and yellow, horns of a steer, but a lovable fellow. From head to tail, he's royal purple pigment, and there, voila, you've got a Figment."
1 Comment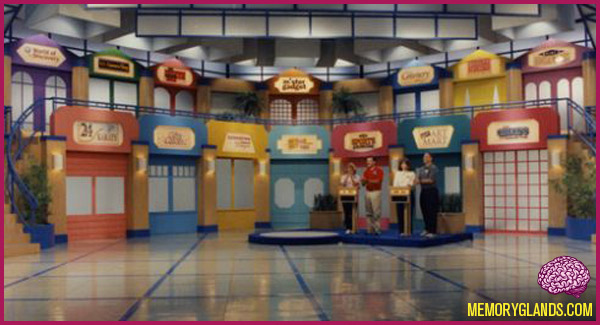 Shop 'til You Drop is an American game show that aired on various broadcast television networks from 1991–2006. The series was hosted by Pat Finn from 1991–2002, followed by JD Roberto from 2003–2005. Co-hosts/announcers included Mark L. Walberg (1991–1994), Jason Grant Smith (1996–1997), Dee Bradley Baker (1997–2002), and Don Priess (2003–2005). From its premiere through 2002, the backdrop of Shop 'til You Drop was a 14-store, two-story shopping mall.
The show ran on Lifetime from July 8, 1991 to September 30, 1994, with reruns aired until May 31, 1996. After four months, the show moved to The Family Channel as The New Shop 'til You Drop, where it ran from September 30, 1996 to August 14, 1998.
PAX (now ION) reran episodes of The Family Channel version from April 19 to October 29, 1999, followed by the final Lifetime season from November 1, 1999 to March 31, 2000. On April 3 of that year, PAX launched a new mall-based Shop 'til You Drop series and continued until 2002. A new warehouse store-based version began airing on PAX on October 6, 2003 and aired until 2005; reruns of that series continued until 2006.
A PAX episode from 2000 aired as part of The 50 Greatest Game Shows of All Time series on Game Show Network (GSN), featuring a 950-point total by a winning team. The network purchased the rights to the one episode and does not currently own rights to any reruns. Click here to watch a clip from the show »
1 Comment
| | | |
| --- | --- | --- |
| | | |