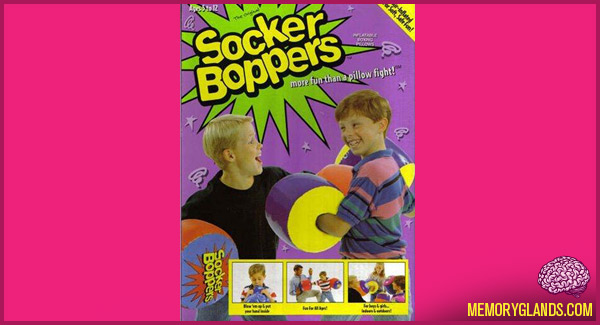 Sock'em Boppers (formerly Socker Boppers) were a children's toy popularized in the late 1990s, though they had existed for decades prior to that. Television advertisements for the product featured a jingle offering the boast that they were "More fun than a pillow fight". Click here to watch a commercial »
2 Comments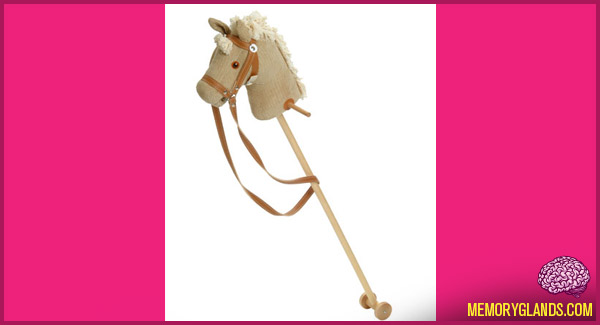 A hobby horse (or hobby-horse) is a child's toy horse, particularly popular during the days before cars. Children played at riding a wooden hobby-horse made of a straight stick with a small horse's head (of wood or stuffed fabric), and perhaps reins, attached to one end. The bottom end of the stick sometimes had a small wheel or wheels attached. This toy was also sometimes known as a cock horse (as in the nursery rhyme Ride a cock horse to Banbury Cross).
2 Comments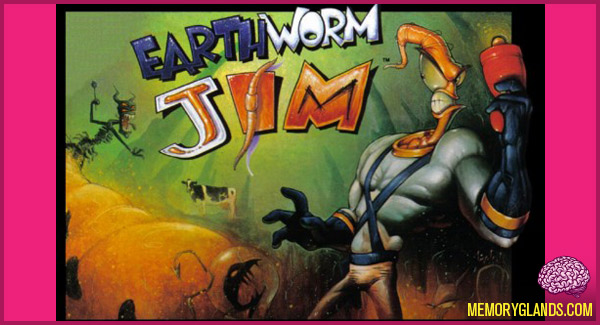 Earthworm Jim is a run and gun platform video game released in 1994 starring an earthworm named Jim in a robotic suit who battles evil. Created by Doug TenNapel and designed by David Perry, the game was developed by Shiny Entertainment, released for the Mega Drive/Genesis in 1994, and subsequently ported to the SNES, Game Boy, Game Gear, Sega Master System, and years later, the Game Boy Advance. Upon its release it was praised for its detailed animation, polished gameplay and surreal humor; it became the first game ever to receive a 100% review in GamesMaster magazine. Click here to see some gameplay from Super Nintendo »
1 Comment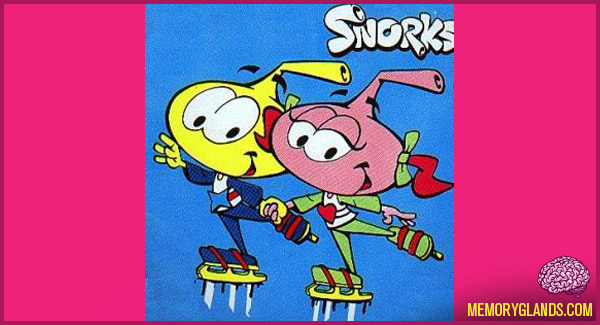 Snorks is an animated television series produced by Hanna-Barbera Productions which ran on NBC from September 15, 1984 to May 13, 1989. The program continued to be available in syndication from 1986 to 1989, on the BBC in the late 90′s, and from 2009–present on Boomerang. Freddy Monnickendam of Belgian character licensing firm SEPP originally developed the "Snorks" concept in 1982. Belgian comics artist Nicolas Broca created the original character designs, which were originally created for characters called "Diskies" he wished to include in the Spirou et Fantasio franco-belgian comic he was drawing at the time. A page and a few images were realized, and were published in the limited edition album Les Mémoires de Spirou in 1989. As of today, they have not been republished. The cartoon was relatively successful and has a considerable fan following. Click here to watch the intro »
1 Comment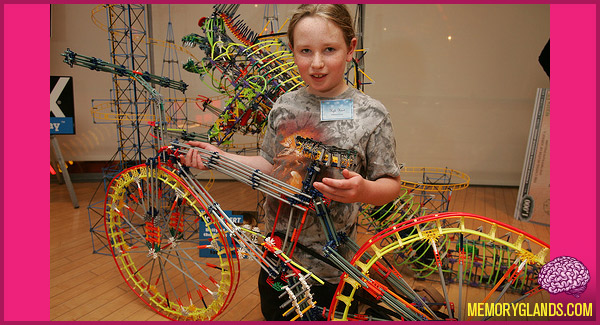 K'Nex is a brand name of a construction toy system invented by Joel Glickman, designed and produced by K'Nex Industries of Hatfield, Pennsylvania, USA. Currently Michael Araten is the president of the organization. The name is, presumably, a phonetic variation of connects, and is pronounced the same way. The toy's building system consists of interconnecting plastic rods and connectors, which can connect together to form all kinds of contraptions. K'Nex is a construction toy, and therefore in the same genre as Lego, Fischertechnik and Meccano.
The first K'Nex Box was launched in the U.S. market in 1993. Original models with moving parts had a hand crank to make things move. But soon gears and motors allowed models to move on their own.
1 Comment