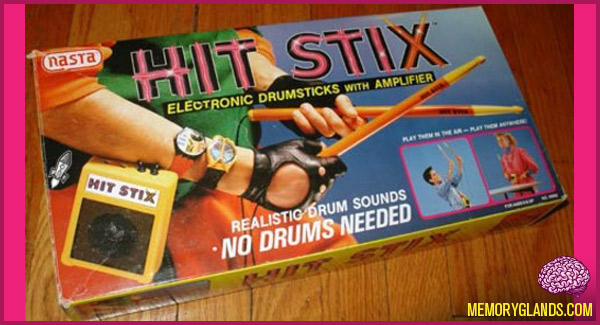 Hit Stix is a toy electronic musical instrument manufactured by Nasta and Radio Shack in the 1980s. A set of Hit Stix consists of 2 drum sticks which are teathered to a small amplifier by audio cables. When the drum sticks are thrust forward in mid air, mimicking actual drum playing, a snare drum sound effect is produced. A rapid succession of thrusts produces a drum roll. Like air guitar is played without a real guitar, Hit Stix are played without any real drums. It is a common misconception that Hit Stix are meant to be hit against another surface. In fact, the sounds are produced simply by the motion of drumming and do not need to come in contact with any surface in order to produce a sound. Hit Stix is succeeded by Hit Stix 2, which incorporates sound selection via sliders on each drum stick. The left stick adjusts the tone while the right selects either snare, tom, bass drum or phaser. Both incarnations feature a yellow and orange color scheme and a belt clip which allows the drummer to wear the amplifier on his or her hip. The amplifier requires one 9-volt battery and has a wheel for volume control. Click here to watch a commercial »
No Comments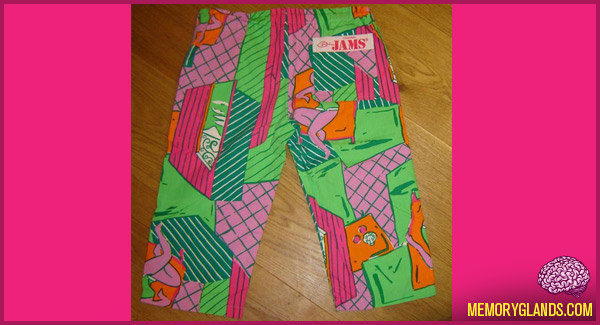 Jams is a line of clothing produced by Jams World. Jams shorts, a popular clothing item in the 1960s and 1980s, were closely associated with the surf scenes in California and Hawaii.
Company founder Dave Rochlen was a surfer, originally in Santa Monica, California, then in Hawaii. Inspired by his own desire to find more comfortable surfing attire, combined with a Life Magazine article showing Russians looking comfortable attending the beach in bathrobes, Rochlen bought some brightly-colored floral fabric and asked his wife Keanuenue to make a short, baggy pajama with a sewn-up fly and cut-off at the knee. With this vision, they created the first pair of Jams on December 25, 1964.
Rochlen quit his job as a systems analyst and started his new company Surf Line Hawaii, Ltd. to make and sell his new creation. Soon after his first commercial pairs of Jams hit the Makaha Beach in Hawaii, Life magazine ran a two-page spread on Rochlen and a group of his surfing buddies in the June 1965 issue. After the article, the Jams line was sold in places like Bloomingdales, Macy's, and Lord & Taylor.
The Jams look was baggy and bohemian, with wild prints and clashing pinks and greens. It was a clear departure from the more subtle color combinations and detailing of existing boardshorts.
1 Comment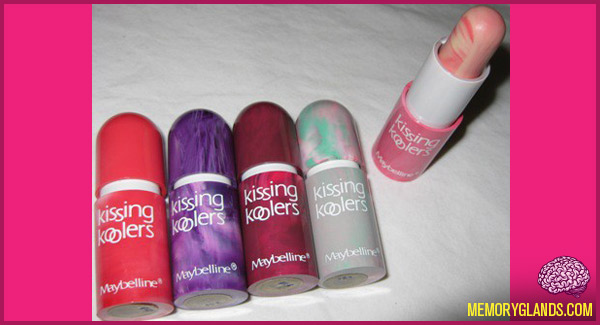 Maybelline's Kissing Koolers, those neat little marbleized lip glosses, came in flavors like Peppermint Twist, Tutti Frutti, Watermelon, Strawberry Fizz and Cherry Cola.
4 Comments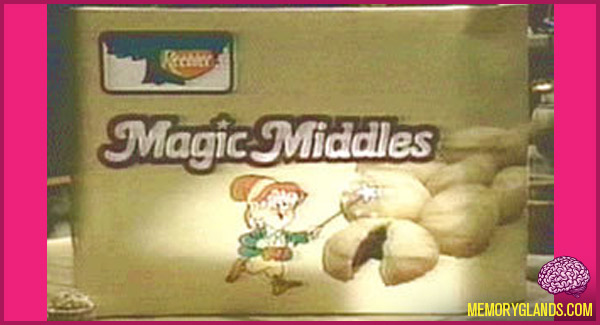 Not sure why Keebler stopped making these because they were the bomb. Click here to watch a commercial »
1 Comment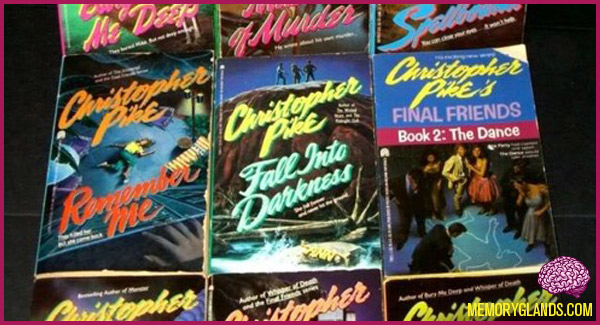 Christopher Pike is the pseudonym of American author Kevin Christopher McFadden (born November 12, 1954). He is a bestselling author of young adult and children's fiction, but whose expertise is in the thriller genre. The pseudonym Christopher Pike is allegedly a reference to the captain of the USS Enterprise (NCC-1701) in the Star Trek: The Original Series pilot. He is not, however, related to Star Trek actress Gates McFadden.
1 Comment
| | | |
| --- | --- | --- |
| | | |