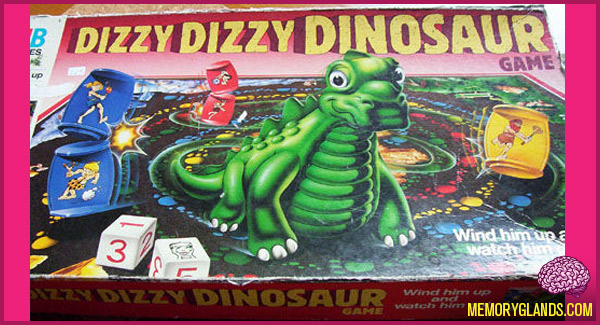 Released in 1987, each player in Dizzy Dizzy Dinosaur started with five caveman in one color and placed them on the corresponding starting point.
To move the caveman, players roll the two dice. If the players throw numbers, they can move a caveman along the board. But if the dinosaur face turns up, the player must wind up the dizzy dinosaur and let him go. There`s no telling where he`ll run, and any caveman knocked aside have to go back to the start.
The first player which has brought safely five caveman to the center of the board wins the game.
No Comments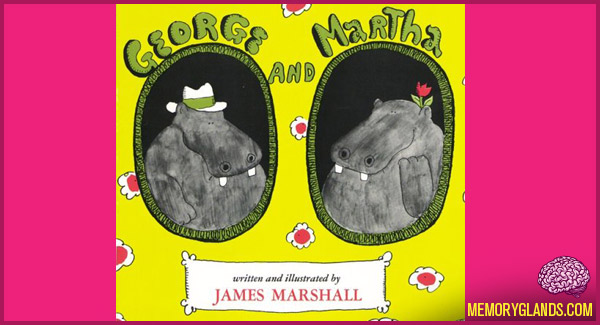 George and Martha is an animated children's television show which comprises 26 episodes made in 1999. The program revolves around the lives of two hippos: George and Martha (voiced by Nathan Lane and Andrea Martin respectively). Produced by Nelvana and initially seen on YTV in Canada, the show is based on a series of books written and illustrated by James Marshall. Its theme song is "Perfidia", by Mambo All-Stars. Click here to watch the intro »
No Comments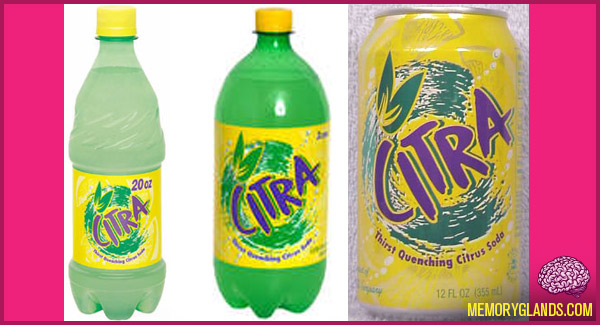 Citra was a grapefruit-flavored soft drink released into the U.S. market in 1996 by the Coca-Cola Company around the same time as Surge, another citrus-flavored soft drink marketed by Coca-Cola (although Surge had caffeine while Citra did not). Citra had a very similar flavor to Fresca, especially the version of Fresca sold in Latin America, which is sweetened with sucrose (table sugar) rather than aspartame as in the American version of Fresca. It also had a flavor similar flavor to Squirt, except that Squirt contains a trace of orange or tangerine flavoring.
In the U.S., Citra was rebranded as Fanta Citrus as of 15 March 2004. Citra should not be confused with Coca-Cola Citra, a variety of Coca-Cola with citrus flavoring.
The original marketing campaign had the theme "Curiously crisp Citra". The drink was always referred to as "citrus flavored" and never as grapefruit flavored, even though most of the taste was grapefruit and sugar.
It was made in the Citrus Blend and Lemon flavors. Fanta Citrus is discontinued, but was only in certain areas of the U.S.
The drink is still out in the shops but it now called Fanta grapefruit.
1 Comment
| | | |
| --- | --- | --- |
| | | |