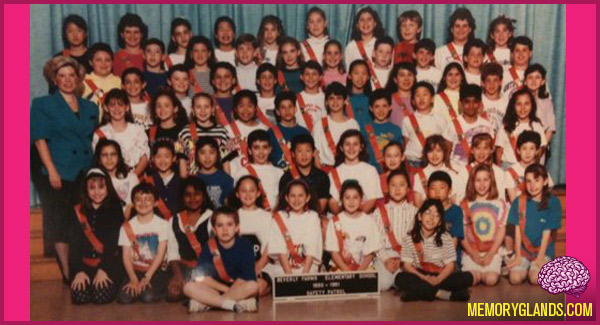 The junior safety patrol is a voluntary group of crossing guards involving older students helping younger students cross streets in elementary and middle schools across the United States. The official School Safety Patrol program was organized in 1920 by the American Automobile Association.
As of 1995, safety patrol members were located in 76 percent of the communities across the United States. AAA clubs across the United States and Canada sponsor the 500,000 member safety patrol program in 50,000 schools. Local AAA clubs supply training materials, badges and other materials, including the orange or neon green Sam Browne belt, needed to organize and operate a school safety patrol program.
Former safety patrol members include U.S. Presidents Jimmy Carter and Bill Clinton; Dr. Gary S. Becker, Nobel Prize-winning economist; U.S. Senator John Warner; former Michigan Governor William Milliken; Joe Garagiola, member of the Baseball Hall of Fame; Lee Iacocca, former Chairman of the Chrysler Corporation, and; Chief Justice Warren E. Burger, along with 21 astronauts.
5 Comments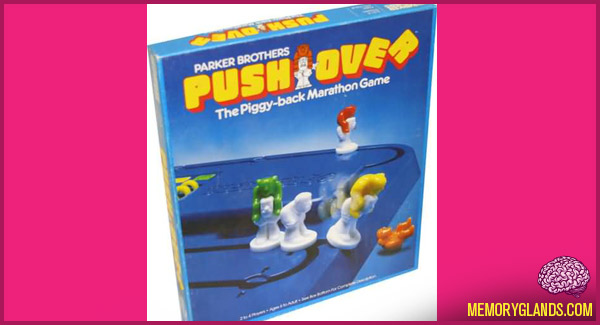 Created in 1981, the players race around a circular track to accumulate points. The player pieces are mounted piggyback on neutral "carriers". On your turn, you roll up to three dice (1, 1, 2, 2, 3, 3), aiming for 4 or less –one die at a time. If you get 4 or less on two dice, you move twice the amount, if you get it on three, you move thrice. If you total more than 4, you're busted and your piece goes off board, plus a chip is added to the pot (initially seeded with 1 chip). As pieces move, they push those in front of them on the track. There are two exit tracks where you get to push pieces over the side. Whenever this happens, you also add a chip to the pot. You can get back on track only if there is a carrier piece available.
As you pass the pot, you grab the chips there (and seed it again with a chip). First player to 10 chips wins.
No Comments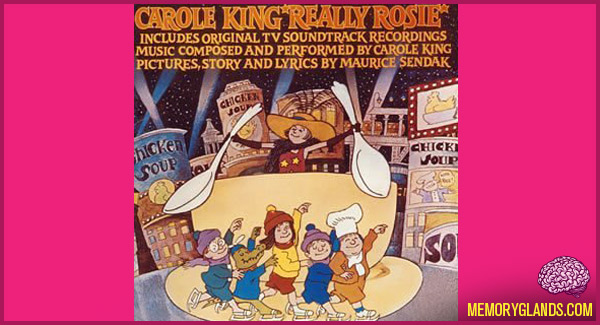 Really Rosie is a musical with a book and lyrics by Maurice Sendak and music by Carole King. The musical is based on Sendak's books Chicken Soup with Rice, Pierre, One was Johnny, Alligators All Around (which comprise The Nutshell Library (1962)), and The Sign on Rosie's Door (1960). Sendak based the story on a demonstrative little girl who used to sing and dance on the stoop of her building, whom he observed while he was a little boy growing up in Brooklyn. Click here to read more and watch part one of the movie »
No Comments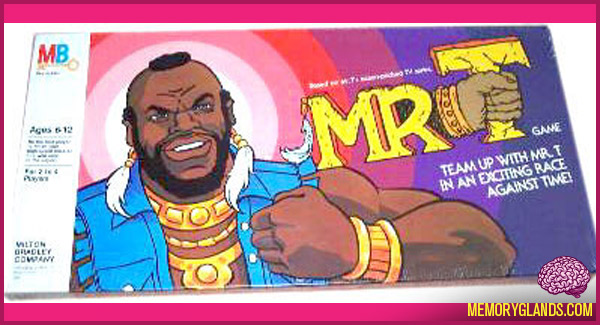 Released in 1983, this game is based on the mid-80's cartoon of the same name, where Mr. T coached a gymnastics team made up of teens (who also used their gymnastics to fight crime).
Mr. T's Gymnastics Team has to get to the airport before the clock runs out (and presumably the flight leaves). Each member of the team has three errands they have to complete – pick up their gym suit from the dry cleaners, say goodbye to the team mascot, stop by the police station to report a crime and so on. Along the way, players can land on spaces with red stars that inflict random punishments and rewards on them.
Only through clever use of the team bus and careful planning to get from errand to errand can the player beat the rest of the team to the plane.
No Comments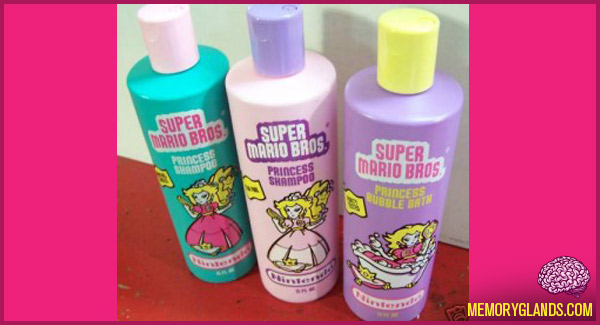 Thanks to Revlon, you could bathe with your favorite Nintendo character.
No Comments
| | | |
| --- | --- | --- |
| | | |