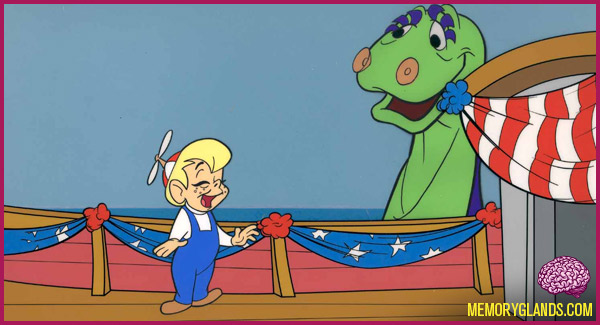 Beany & Cecil was an animated cartoon series created by Bob Clampett, who had previously worked for Warner Bros.. As a puppet show entitled Time for Beany, it originally aired in 1949, with the animated series first appearing in Matty's Funday Funnies in 1959, later renamed Matty's Funnies with Beany and Cecil and finally Beany and Cecil in the USA. Another season was produced in 1988.
Along with The Jetsons and The Flintstones it was one of the first three color television series on the ABC television network (the initial season, though, was originally shown in black and white, as ABC was unable to telecast color programs until September 1962). Click here to watch the intro »
1 Comment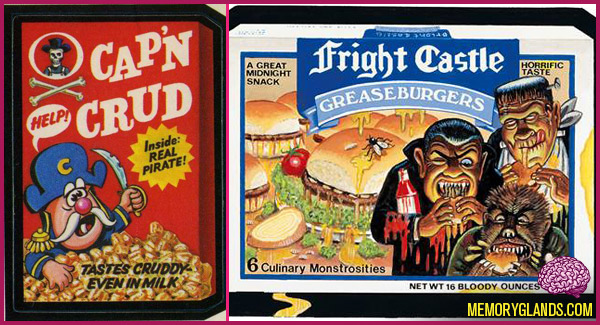 Wacky Packages are a series of trading cards and stickers featuring parodies of North American consumer products. The cards were produced by the Topps Company beginning in 1967, usually in a sticker format. The original series sold for two years, and the concept proved popular enough that it has been revived every few years since. They came to be known generically as Wacky Packs, Wacky Packies, Wackies and Wackys. According to trader legend, the product parodies once outsold Topps baseball cards. Click here to see a click from the Food Network's
2 Comments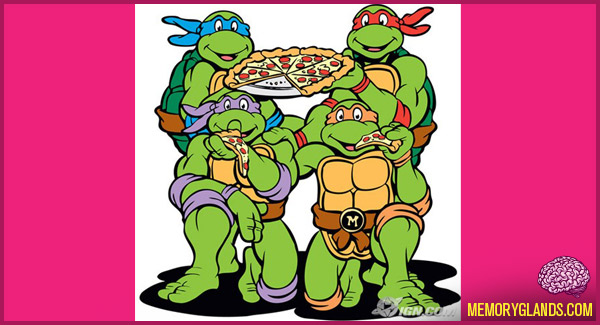 The Teenage Mutant Ninja Turtles (or simply Ninja Turtles) are a fictional team of four teenage anthropomorphic turtles, who were trained by their anthropomorphic rat sensei in the art of ninjutsu and named after four Renaissance artists. From their home in the storm sewers of New York City, they battle petty criminals, evil megalomaniacs, and alien invaders, all while remaining isolated from society at large. The characters initially appeared in comic books before being licensed for toys, cartoons, video games, films, and other merchandise. During the peak of its popularity in the late 1980s through early 1990s, the franchise gained considerable worldwide success and fame.
Rafael was my favorite. Who was yours? Click here to listen to the theme »
7 Comments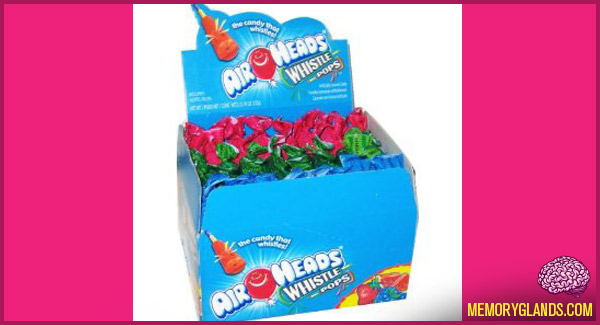 What better way to annoy your parents than with a delicious piece of candy?
No Comments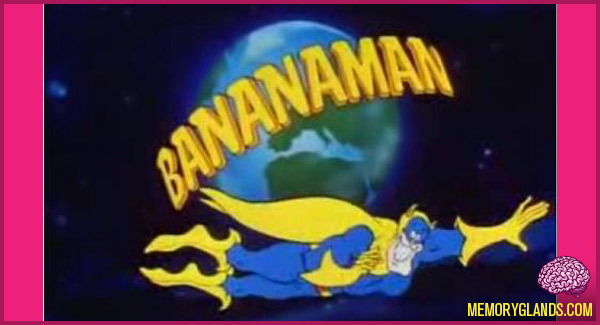 Bananaman is a British comic book fictional character. He originally appeared in Nutty as the backpage strip in Issue 1, dated 16 February 1980 drawn by John Geering.
Bananaman was aired in the United States by the Nickelodeon cable network as a companion piece to Dangermouse, but Bananaman never came close to reaching that series' American popularity. The show also aired during the Australian Broadcasting Corporation's (ABC) after school timeslot and is considered one of the Classic ABC shows.
Some of these episodes would eventually re-appear in print form in The Dandy in 1998, coinciding with the BBC repeating the series that year, and are now being reprinted in the comic as of April 2007, now promoting the DVD. Each episode was roughly five minutes from start to end. Phrases from the show, "twenty big men" and "ever alert for the call to action", are still used in the comic today. Click here to watch the Bananaman intro »
No Comments