03.28.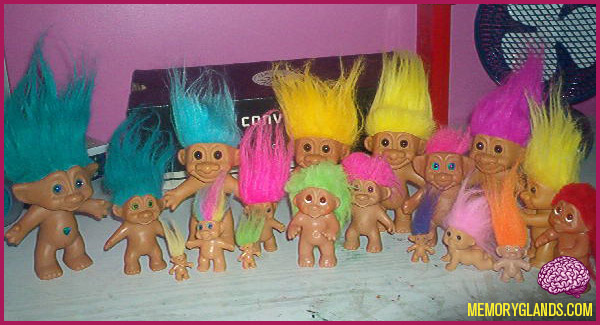 Troll dolls, originally known as Leprocauns and also known as Dam dolls, Gonks, Wishniks, Treasure Trolls, and Norfins, became one of America's biggest toy fads from the autumn of 1963 through 1965. The troll doll is sometimes mistakenly referred to as a Kewpie doll.
Trolls became fads again in brief periods throughout the 1970s, 1980s and 1990s, with as many as ten different manufacturers (such as Russ Berrie, Jakks Pacific, Applause, Hasbro, Mattel, Nyform, Trollkins and Ace Novelty) creating them.
In 2003, the Toy Industry Association named Troll dolls to its Century of Toys List, a roll call commemorating the 100 most memorable and most creative toys of the 20th century.
1 Comment