10.13.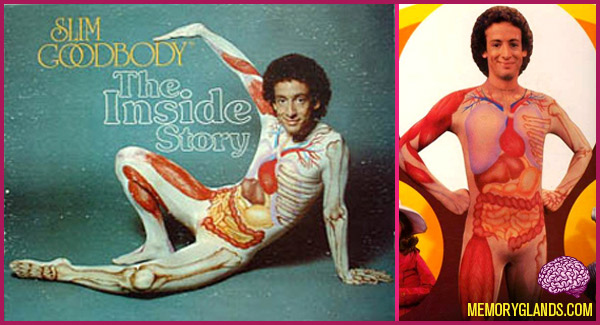 Slim Goodbody ("the Superhero of Health") is a fictional character created and performed by John Burstein. Slim is a human adult who wears a flesh-colored unitard with various tissues, organs and organ systems painted on the front in biologically-accurate locations and sizes. Burstein created the character in 1975. At that time, Burstein was working at The Floating Hospital in New York City. He began writing songs and skits to entertain the children there and to teach them about anatomy and the workings of the human body. He eventually added an organ-painted body suit to the design, dubbing his alter-ego "Slim Goodbody".
Burstein soon took his character outside the hospital. In his earliest days, he mainly did personal appearances and guest spots on shows such as The Today Show and Good Morning America. His skits also focused on exercise, personal hygiene, and nutrition.
Slim Goodbody eventually received his own television series in 1980, Inside Story on PBS. The program mainly consisted of Burstein's live-show Slim Goodbody sketches, though other children's show celebrities such as Captain Kangaroo would sometimes make guest appearances. The show soon became the station's second-highest rated program, and Burstein landed roles on other stations, including Nickelodeon. Since then, Slim Goodbody has featured in several other series, as well. At one point Slim Goodbody began making educational shorts on such subjects as the fear of visiting a hospital, amongst others. One of these shorts featured Burstein's son, Devin, as a child learning about hospitals as he overcomes his fears of an upcoming operation.
5 Comments