11.17.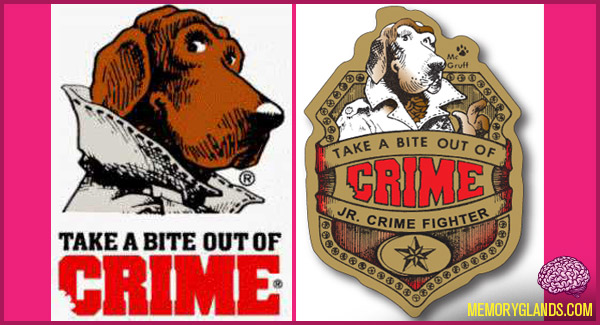 McGruff the Crime Dog is an anthropomorphic cartoon bloodhound created by Saatchi & Saatchi through the Ad Council for the National Crime Prevention Council for use by American police in building crime awareness among children. He debuted in July 1980. The character was created by John Young. The motto "Take a Bite out of Crime" was invented by John M. Keil (born in Rochester, New York), who also did McGruff's voice for many years. After two years on the air, a nationwide contest was opened to name the character. The most common entry was "Sherlock Bones". Other entries included "J. Edgar Dog", "Sarg-dog", and "Keystone Kop Dog". The winner, McGruff the Crime Dog, was submitted by a New Orleans police officer. In some of McGruff's advertisements, he appears with his nephew "Scruff".
McGruff reaches kids through commercials, songs and booklets from the National Crime Prevention Council, talking about drugs, bullying, safety and the importance of staying in school. Recently, McGruff has appeared in commercials addressing identity theft. The character is often used with his motto "Take a bite out of crime!" He also reaches kids through personal appearances as both puppets (often used in classrooms) and costumes worn by police officers nationwide. In a 1990 commercial, Ralph Edwards appeared to honor McGruff's 10th anniversary with a This Is Your Life themed ad.
In 2005, a new identity theft warning campaign was launched in honor of his 25th birthday.
1 Comment