10.18.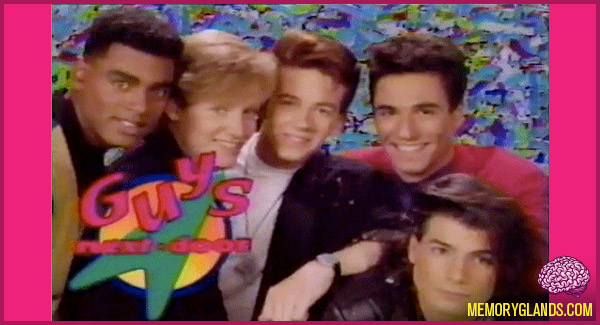 Guys Next Door was an American television series aired on NBC in the 1990-1991 season as part of its Saturday lineup.
The show starred Patrick J. Dancy, Eddie Garcia, Bobby Leslie, Damon Sharpe and Christopher Wolf.
Most of the show centered on comedy sketches and spoofs of popular issues at the time, ala Saturday Night Live. They were also a boyband signed to SBK/EMI records with a Billboard Hot 100 single "I've Been Waiting For You" and released the self titled debut album as well.
The Guys still have a dedicated fanbase with several web fan sites and most of the group's music videos from the show posted on YouTube. You can also find some of the various collectible items that we're made such as the GND lunchbox, buttons, watches, posters, pajamas, and even dolls on Ebay from time to time.
While Chris Wolf and Bobby Leslie dropped out of the public eye after the show ended, Patrick and Eddie are still active as actors. Damon Sharpe is currently a singer, music producer and songwriter who has worked with such talents as Jennifer Lopez, Kylie Minogue, Anastacia, Kelly Rowland, New Boyz and Monica.
No Comments