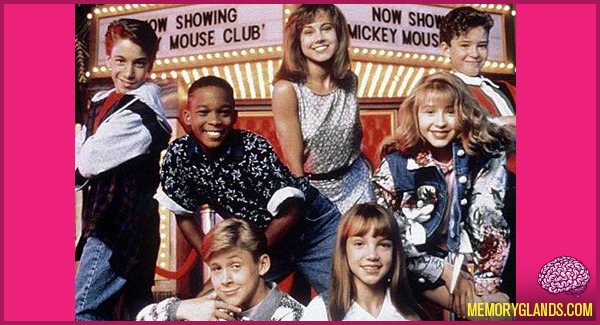 The Mickey Mouse Club is an American variety television show that began in 1955, produced by Walt Disney Productions and televised by the ABC, featuring a regular but ever-changing cast of teenage performers. The Mickey Mouse Club was created by Walt Disney. The series has been revived, reformatted and reimagined several times since its initial 1955–1959 run on ABC.
The sixth season (above) featured future actress Nikki DeLoach; Grammy Award-winning singers Britney Spears, Christina Aguilera, and Justin Timberlake; and future Academy Award-nominated actor Ryan Gosling. Click here to watch a clip of those young stars »
No Comments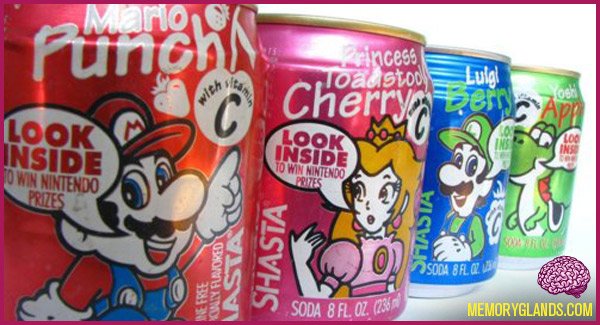 Four flavors were produced by Shasta in 1991: Mario Punch, Luigi Blue Rasberry, Princess Toadstool Cherry, and Yoshi Green Apple.
5 Comments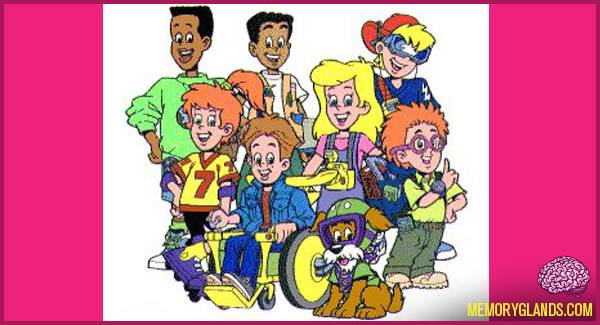 In 1989, Burger King re-launched its kids' meal program as the Burger King Kids Club meal across the United States. The Burger King Kids Club Gang, a group of multi-ethnic fictional characters, were created to promote the Burger King Kids Club meal by providing a group of stylized characters that most kids could associate with, e.g. the brain, the artist, etc.
The members of the gang were:
Kid Vid, a Caucasian male who loved video games and technology; he was the leader of the group.
Boomer, a sports loving Caucasian tomboy with red hair tied into a ponytail.
I.Q., a male Caucasian nerd who wore red glasses, a green lab coat, and a pocket protector.
Jaws, a tall African-American male with an insatiable appetite.
J.D., a dog and the group's mascot.
Lingo, a multi-lingual, Hispanic male who liked art and carried an easel.
Snaps, a blonde Caucasian female who always carried her camera.
Wheels, a Caucasian paraplegic male in a wheelchair.
Jazz, an Asian girl who loved music and sported a beret. Click here to read more and watch a commercial »
4 Comments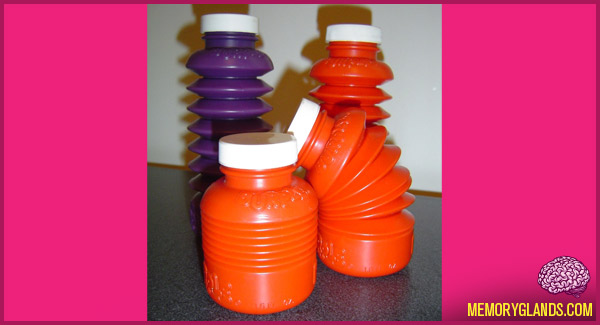 Burple is a discontinued drink mix that was packaged in an expandable accordion-like plastic container. There were two sizes of Burple available, a lunchbox-size and a full-size container. To prepare the drink, the container was stretched to expand it to its full size and water was added to the concentrated liquid in the bottle. The drink was often compared to Kool-Aid and came in the flavors grape, strawberry, cherry, peach, and orange. The label included instructions for poking a hole in the cap to convert the container into an ad hoc squirt gun after finishing the drink.
3 Comments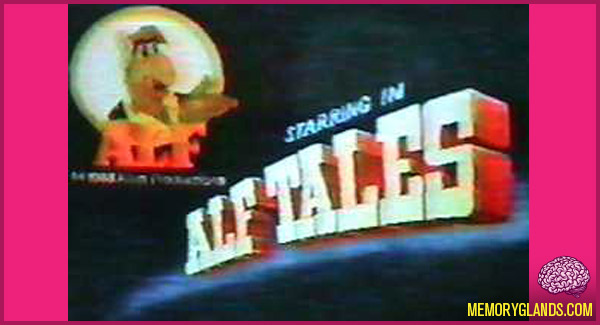 ALF Tales is an animated American series that ran on the NBC television network on Saturdays from August 1988 to December 1989. The show was a spinoff from the series ALF: The Animated Series. The show had characters from that series play various characters from fairy tales. The fairy tale was usually altered for comedic effect in a manner relational to Fractured Fairy Tales.
Each story also typically spoofed a film genre, such as the "Cinderella" episode done as an Elvis movie. Some episodes featured a "fourth wall" effect where ALF is backstage preparing for the episode, and Rob Cowan would appear drawn as a TV executive (who introduced himself as "Roger Cowan, network executive") to try and brief ALF on how to improve this episode. For instance Cowan once told ALF who was readying for a medieval themed episode that "less than 2% of our audience lives in the Dark Ages". Click here to watch the intro »
1 Comment
| | | |
| --- | --- | --- |
| | | |