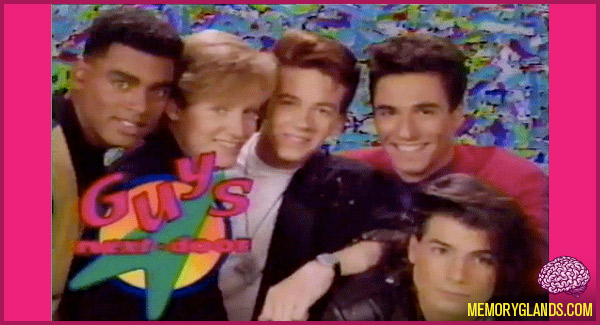 Guys Next Door was an American television series aired on NBC in the 1990-1991 season as part of its Saturday lineup.
The show starred Patrick J. Dancy, Eddie Garcia, Bobby Leslie, Damon Sharpe and Christopher Wolf.
Most of the show centered on comedy sketches and spoofs of popular issues at the time, ala Saturday Night Live. They were also a boyband signed to SBK/EMI records with a Billboard Hot 100 single "I've Been Waiting For You" and released the self titled debut album as well.
The Guys still have a dedicated fanbase with several web fan sites and most of the group's music videos from the show posted on YouTube. You can also find some of the various collectible items that we're made such as the GND lunchbox, buttons, watches, posters, pajamas, and even dolls on Ebay from time to time.
While Chris Wolf and Bobby Leslie dropped out of the public eye after the show ended, Patrick and Eddie are still active as actors. Damon Sharpe is currently a singer, music producer and songwriter who has worked with such talents as Jennifer Lopez, Kylie Minogue, Anastacia, Kelly Rowland, New Boyz and Monica. Click here to watch the intro »
No Comments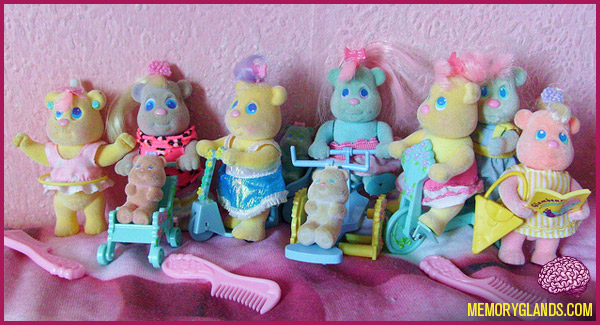 Bitsy Bears were produced by Tyco in 1991-92. They were a series of 4″ flocked poseable bears and each one had its own wind-up action. Click here to watch some of their animated series »
1 Comment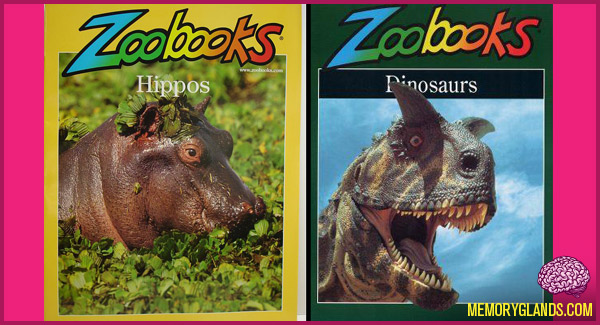 Zoobooks is a monthly magazine for children. Each issue covers a different animal with pictures, educational diagrams and facts. Charles R. Schroeder, D.V.M., Director Emeritus San Diego Zoo & San Diego Wild Animal Park, was the zoological consultant for all of the Zoobooks along with other more specialized researchers for every different issue.
No Comments
Strawberry Shortcake is a licensed character owned by American Greetings, originally used in greeting cards and expanded to include dolls, posters, and other products. The Strawberry Shortcake properties also include a toy line of the character's friends and pets.
The original design of Strawberry Shortcake and her cat, Custard was done in 1977 by Muriel Fahrion during her time as a greeting card illustrator at American Greetings' Juvenile & Humorous card department. Click here to watch the intro to the show »
1 Comment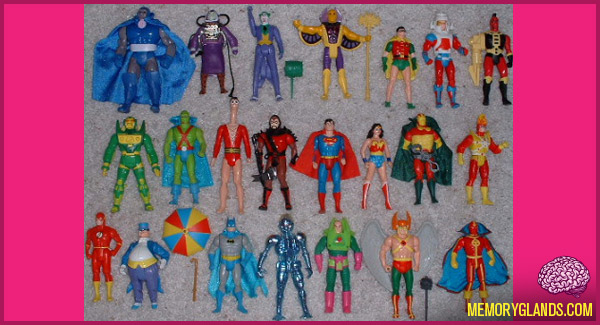 The Super Powers Collection was a line of action figures based on DC Comics superheroes and supervillains that was created by Kenner Products in the 1980s.
In 1984, DC Comics awarded the master toy license of their characters to Kenner Products, hot on the heels of Mattel's "action feature" heavy He-Man toy line. The initial pitch seemed to be heavily influenced by Kenner's popular Star Wars toyline with multiple playsets with individual franchises for Superman, Batman, Wonder Woman, Green Lantern, Teen Titans, Lois Lane, and the Super Jrs. Winning the license away from Mego Corporation and Mattel with their emphasis on action and art, Kenner devised hidden mechanisms within the figures that would trigger an action when the figure's legs or arms were squeezed. This emphasis on each figure's "super power" led to the naming of the line – The Super Powers Collection. Each figure in the first two series were also packaged with a mini-comic featuring that character's adventures.
In all, three series of figures and accessories were released (in 1984, 1985, and 1986), but after three years of production the line collapsed.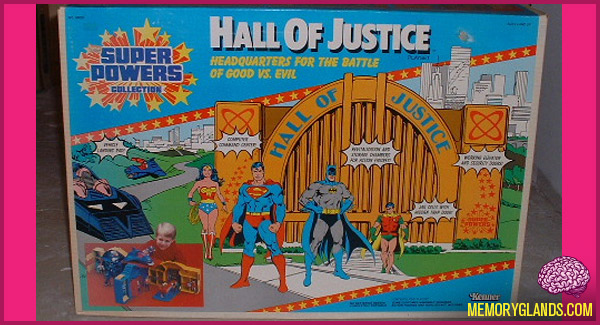 No Comments
| | | |
| --- | --- | --- |
| | | |