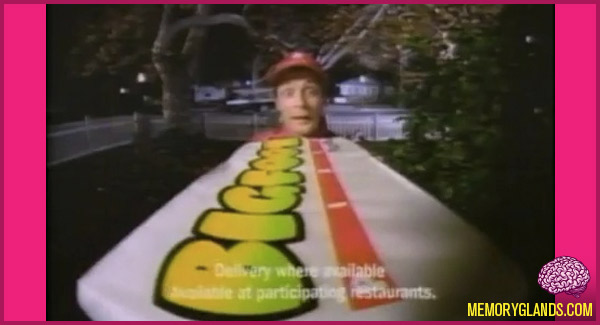 The initially popular two-foot by one-foot square cut pizza named Bigfoot was introduced by Pizza Hut in 1993. Chain pizza seems to taste better in square form. Anyone else agree? Click here to watch the commercial »
6 Comments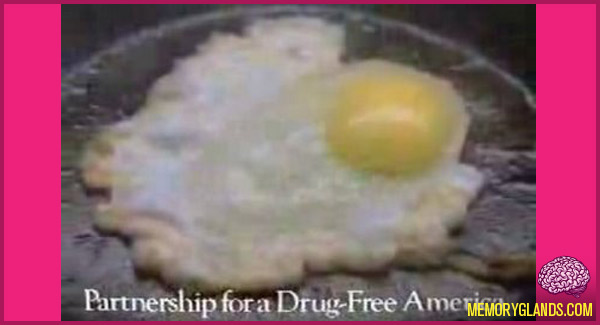 This Is Your Brain on Drugs was a large-scale US anti-narcotics campaign by Partnership for a Drug-Free America (PDFA) launched in 1987, that used two televised public service announcements (PSAs) and a related poster campaign.
The first PSA showed a man who held up an egg and said, "This is your brain," before picking up a frying pan and adding, "This is drugs." He then cracks open the egg, fries the contents, and says, "This is your brain on drugs." Finally he looks up at the camera and asks, "Any questions?" A shorter version of this, simply showing a close-up of an egg dropping into a frying pan, was used a few years later.
The PSA was so popular that Freddy's Dead: The Final Nightmare spoofed the PSA with Johnny Depp, who appeared in the first Nightmare on Elm Street movie. The PSA goes on as normal until Robert Englund (who plays Freddy Krueger) hits Depp with the frying pan and says, "Yeah! What are you on? Looks like a frying pan and some eggs to me." Click here to watch the original PSA »
No Comments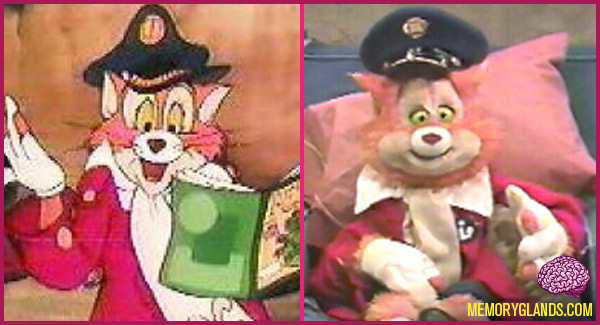 Cap'n O. G. Readmore (created by Puppet Studio) was the fictional-character host of the ABC Weekend Specials on U.S. television during the 1980s. He was an anthropomorphic cat puppet, dressed in a nautical outfit, that encouraged children to read for pleasure. He hosted the show from 1984 through 1989, performing with guest stars including Vincent Price, Harry Blackstone Jr., Pat Morita, Joan Lunden and others. Also, he appeared in animated form in a few Weekend Specials, including Cap'n O. G. Readmore Meets Chicken Little and Cap'n O. G. Readmore Meets Dr. Jekyll and Mr. Hyde; in these features, he was the president of an all-feline book club, the Friday Night Book Club, who often found himself physically pulled into the story he's reading.
The voice of the character was provided by the American voice actor Frank Welker in the original Public Service Announcements and while hosting the ABC Weekend Special. However, in several of the animated specials, such as Cap'n O. G. Readmore Meets Dr. Jekyll and Mr. Hyde, his voice was provided by Neil Ross. Many of the regular characters had fanciful names, such as Lickety Page and Kitty Literature.
The feline character Cap'n Readmore was drawn on as a source of inspiration when choosing a middle name for Dewey Readmore Books. Click here to watch a PSA from 1985 »
No Comments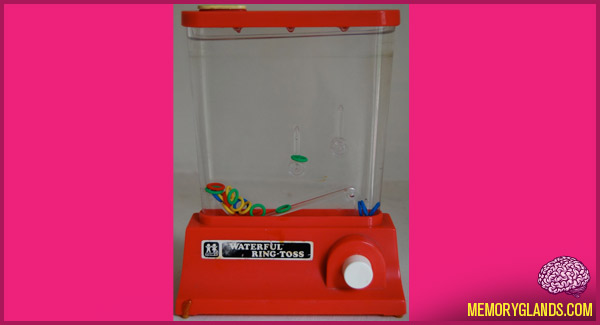 If you don't remember this, then you are missing out. Well, at least from the ages of about 7-9 it was fun. After that you realized that it was boring and there was really no point to it.
3 Comments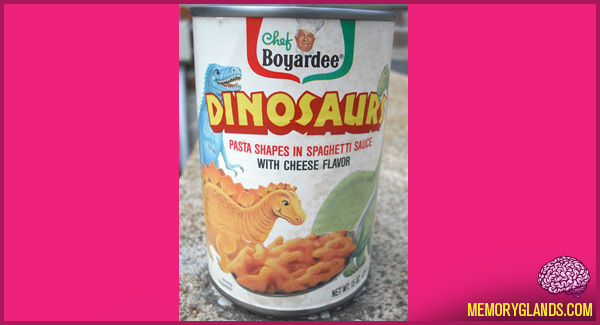 Apparently Chef Boyardee still makes the dinosaur shaped pasta, but I can't imagine that they taste as good as these ones did. Click here to watch the commercial »
2 Comments