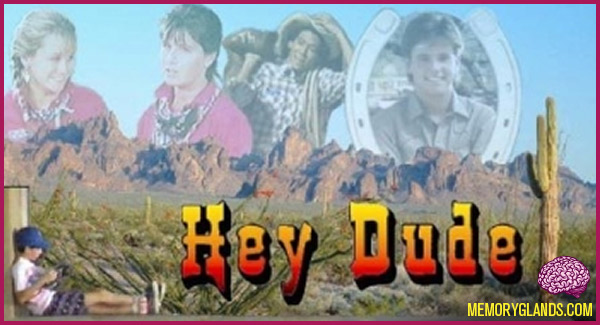 Hey Dude is an American Western comedy series that aired from 1989 to 1991. The show was broadcast on the Nickelodeon network, with reruns airing as late as 1999. Hey Dude was Nickelodeon's first original live action television series.
The series was set on the fictional "Bar None Dude Ranch" near the city of Tucson, Arizona. It portrayed the lives of the ranch's owner, his son, and five teenage summer employees. Hey Dude was a comedy geared towards a teenage audience. Click here to watch the opening credits »
10 Comments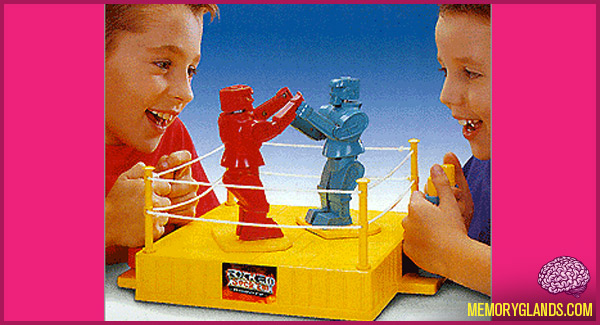 Rock'em Sock'em Robots is a popular two-player action toy and game, designed by Marvin Glass and Associates and was first manufactured by Marx toy company in 1964. It features two dueling robot boxers mechanically manipulated by the players, and the game is won when one player knocks the head off of the opposed. The current version of the game by Mattel features physically smaller robots. Click here to see an old commercial »
1 Comment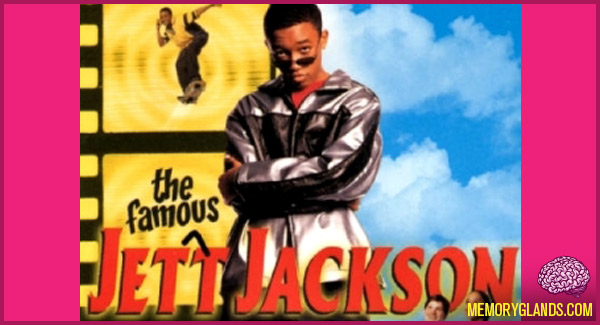 The Famous Jett Jackson is a joint Canadian and American Disney Channel Original Series coming-of-age television series for children ages 12–16 about a boy named Jett Jackson (Lee Thompson Young) who plays a teenage secret-agent on a fictional TV show-within-a-show called Silverstone. Jett lives and films Silverstone in his fictional hometown of Wilsted, North Carolina, where his father is the sheriff. However, the actual series, The Famous Jett Jackson, was filmed in Brooklin, Ontario. The show premiered on October 25,1998. Click here to see a promo for the show »
1 Comment
"Blue (Da Ba Dee)" (also released as "I'm Blue" in some countries) is a eurodance song released in 1999 by Italian group Eiffel 65, as a single from their debut album Europop (1999).
The song is the group's most popular single, reaching number one in many countries such as Ireland, the United Kingdom, Spain, the Netherlands, France, Sweden, Switzerland, New Zealand, Norway, Australia, and Germany, as well as reaching number six on the Billboard Hot 100 in the United States. In the United Kingdom, the song originally entered the Top 40 purely on import sales. It was only the third single to do this.
The song also received a Grammy Award nomination for Best Dance Recording at the 2001 Grammy Awards. It was considered a defining song of pop culture in 2000.
8 Comments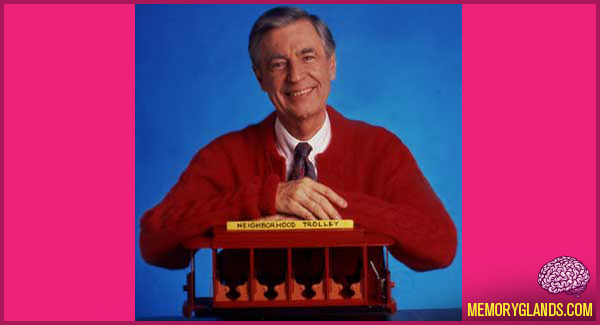 Beginning in 1968, Mister Rogers' Neighborhood, also known as Mister Rogers, is an American children's television series that was created and hosted by Fred Rogers. The series is aimed primarily at preschool ages, 2-5, but has been said by PBS as "appropriate for all ages". Mister Rogers' Neighborhood was produced by Pittsburgh, Pennsylvania. It is the second longest running series on PBS, after Sesame Street. The series could be seen in reruns on most PBS stations until August 29, 2008, when it was removed by PBS from their daily syndicated schedule along with Reading Rainbow, Boohbah, and Teletubbies. A number of stations have chosen to continue airing it independently of the PBS feed. Click here to watch the opening »
9 Comments