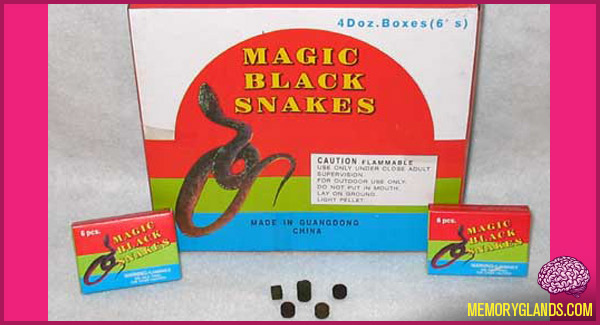 Black snake and Pharaoh's serpent are two similar types of outdoor firework. After lighting the small tablet, both fireworks start smoking and an ash resembling a snake is created via intumescent reaction. They stay on the ground and do not emit sparks, flares, any form of projectiles, or any sound, but may release smoke.
Sodium bicarbonate which produces carbon dioxide gas and sugar forming carbon containing ash, are common chemicals used for creating black snake. Click here to see what 1,000 look like light at the same time »
5 Comments
Introduced in 1992, the slogan for P.B. Crisps was "Peanut butter with a crunch."
3 Comments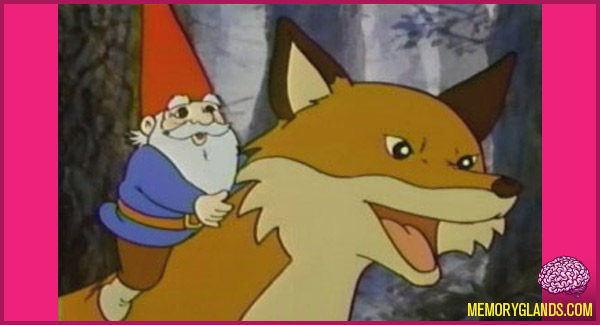 The World of David the Gnome, originally titled David el Gnomo (also known as David, the Gnome), is a Spanish animated television series based on the children's book The Secret Book of Gnomes, by the Dutch author Wil Huygen and illustrator Rien Poortvliet. The program was originally created in Spain by BRB Internacional (who were also responsible for the Dogtanian and the Three Muskehounds franchise and other cartoons like Bobobobs and Around the World with Willy Fog) with animation by Canadian studio Cinar (now Cookie Jar Entertainment), titled David el Gnomo, and retains a sense of the lush illustrations of the original books. Twenty-six episodes were produced. There was also a spin-off series entitled Wisdom of the Gnomes.
In the English language dub, The World of David the Gnome was narrated by Christopher Plummer, with the voice of David the Gnome being provided by Tom Bosley.
David the Gnome came to US television in 1987, airing weekdays on the Nickelodeon cable channel, and was part of the fledgling Nick Jr. lineup when that was created shortly thereafter until 1995. It also aired on The Learning Channel from September 30, 1996 until late 1998. The series is still frequently airing weekday mornings on Irish channel RTÉ Two as of 2006. In Australia, it has aired on ABC, as well as the Australian branch of Nickelodeon, again as part of the Nick Jr. lineup. Click here to watch the intro »
No Comments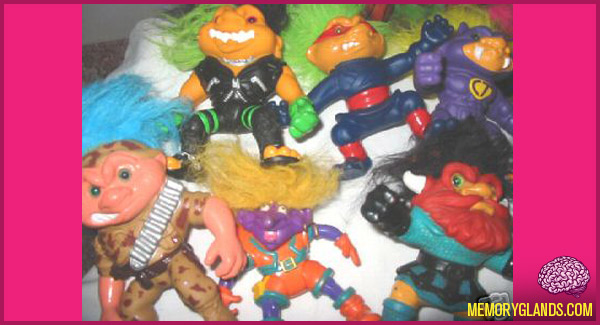 The Original Battle Trolls was a brand of action figures produced by Hasbro from 1992-1993. They were made in attempt to market the popular concept of troll dolls to young boys in the early 1990s. Click here to watch a commercial »
2 Comments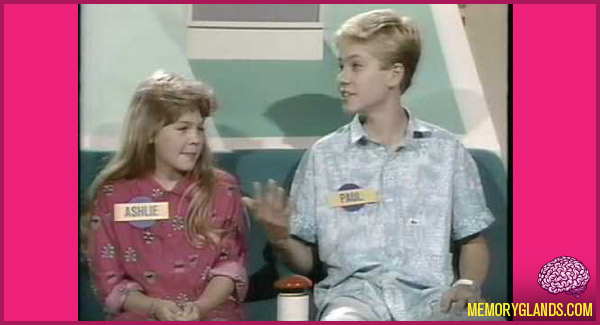 I'm Telling! is an American television game show, which ran from September 12, 1987 to March 5, 1988 on NBC Saturday mornings and was hosted by Laurie Faso with Dean Goss announcing.
The show is essentially a children's version of The Newlywed Game with young siblings playing instead of married couples. The show was produced by Saban Entertainment and DIC Entertainment. Click here to watch the episode with a young Paul Walker »
No Comments
| | | |
| --- | --- | --- |
| | | |