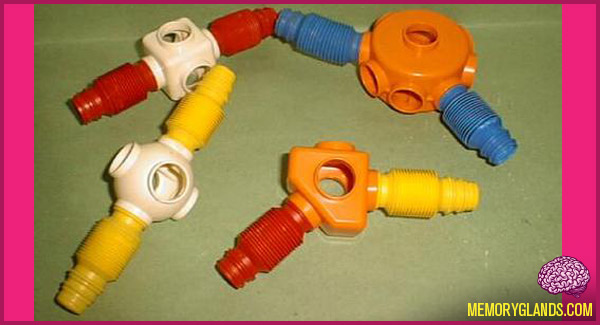 Popoids were a building toy that was released by Tomy in 1984. They featured bendable plastic tubes which were something like large plastic drnking straws. In 1984, McDonald's gave away small Popoids sets in happy meals. Click here to watch a commercial »
No Comments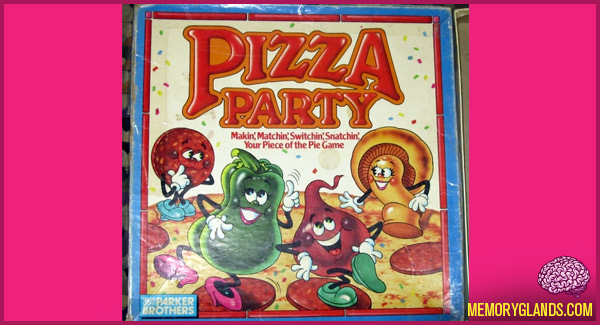 Introduced in 1987, Pizza Party iss a quick and simple variation of Memory for children which becomes much more adult and exciting when money is wagered on the outcome. Each player gets a color coded pizza pie slice with six slots used to hold ingredient discs. There are six disc of four different toppings place face down on the table along with two "switch" discs for each color. Players flip over a disc on their turn and add it to their slice if it matches the topping they already have. If a "switch" disc is revealed, the player trades his slice with the player of the corresponding color or with any player if his own color is revealed. Click here to watch the commercial »
2 Comments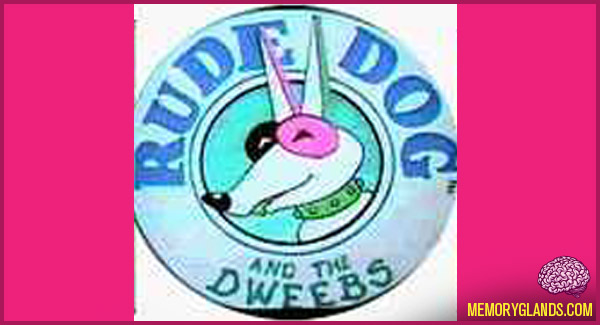 Rude Dog is a fictional white cartoon dog originally created by artist Brad McMahon while under contract to Sun Sportswear in the 1980s as part of a line of surfing- and skateboarding-related clothing.
To further market the character, Sun also developed a Saturday morning cartoon entitled Rude Dog and the Dweebs. Rude Dog and the Dweebs was as colorful as the clothing it advertised. The punkish pooch himself drives a 1959 pink Cadillac across a backdrop of Beverly Hills imagined in hues of pastel and neon.
Rude Dog (voiced by Rob Paulsen in a Brooklyn accent) runs an auto shop, where he is assisted by the Dweebs, a motley group of mutt minions. The team includes the stuttering Caboose (voiced by Frank Welker), the uptight Winston (voiced by Peter Cullen in a British accent), Reginald AKA Reggie (voiced by Mendi Segal impersonating Jack Nicholson), Barney (voiced by Dave Coulier in a Southern accent), Ditzy Kibble (voiced by Ellen Gerstell), Satch (voiced by Jim Cummings impersonating Ed Wynn), and a friendly Chihuahua named Tweek (voiced by Hank Saroyan). Rude Dog has a girlfriend named Gloria (voiced by Ellen Gerstell).
Their feline foe is the vicious Seymour (voiced by Frank Welker), and joining him in the chase is the ubiquitous dog catcher Herman (voiced by Peter Cullen) and his dimwitted rotweiller assistant Rot (voiced by Frank Welker). Each week, Rude Dog and company balance their auto shop duties with attempts to elude the persistent Seymour, Herman, and Rot.
The show debuted on CBS in 1989 and ran for one season. It also spawned home entertainment releases by Celebrity Home Entertainment through their Just for Kids Home Video label. Click here to watch the intro »
1 Comment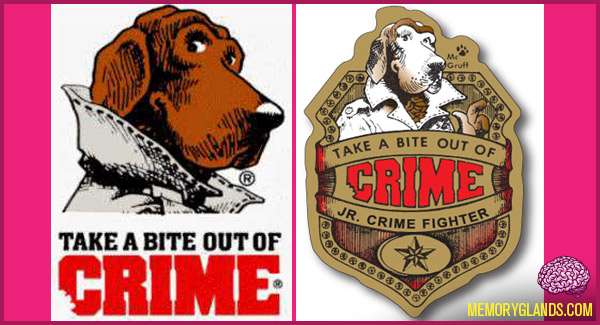 McGruff the Crime Dog is an anthropomorphic cartoon bloodhound created by Saatchi & Saatchi through the Ad Council for the National Crime Prevention Council for use by American police in building crime awareness among children. He debuted in July 1980. The character was created by John Young. The motto "Take a Bite out of Crime" was invented by John M. Keil (born in Rochester, New York), who also did McGruff's voice for many years. After two years on the air, a nationwide contest was opened to name the character. The most common entry was "Sherlock Bones". Other entries included "J. Edgar Dog", "Sarg-dog", and "Keystone Kop Dog". The winner, McGruff the Crime Dog, was submitted by a New Orleans police officer. In some of McGruff's advertisements, he appears with his nephew "Scruff".
McGruff reaches kids through commercials, songs and booklets from the National Crime Prevention Council, talking about drugs, bullying, safety and the importance of staying in school. Recently, McGruff has appeared in commercials addressing identity theft. The character is often used with his motto "Take a bite out of crime!" He also reaches kids through personal appearances as both puppets (often used in classrooms) and costumes worn by police officers nationwide. In a 1990 commercial, Ralph Edwards appeared to honor McGruff's 10th anniversary with a This Is Your Life themed ad.
In 2005, a new identity theft warning campaign was launched in honor of his 25th birthday. Click here to watch one of those ads »
1 Comment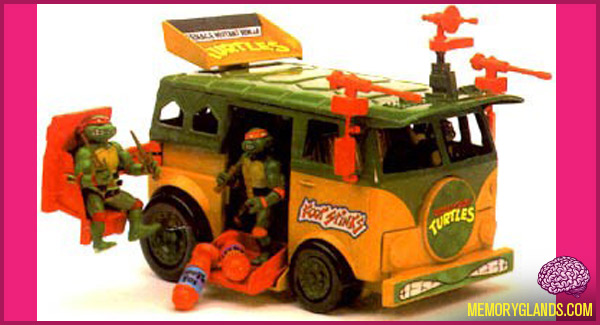 If you loved the Ninja Turtles, then you had this guy. Who was your favorite Turtle?
4 Comments
| | | |
| --- | --- | --- |
| | | |