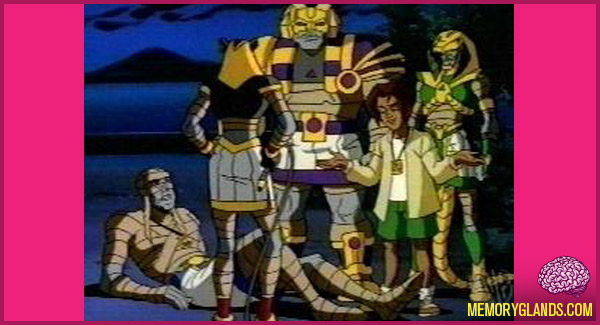 Mummies Alive! is an American animated series from DIC Entertainment. It originally aired for one season in 1997.
In ancient Egypt, an evil sorcerer named, Scarab, kills the pharaoh's son, Prince Rapses, so he can become pharaoh immortal. Entombed alive for his crime (Rapses' body was also never found), Scarab revives in the modern world and begins his search for Rapses' reincarnation, a San Francisco-dwelling boy named Presley Carnavon to retrieve the spirit of Rapses' so he can become immortal. Rapses' (Presley's) bodyguards, Ja-Kal, Rath, Armon, and Nefer-Tina, along with Rapses' cat, Kahti, awake from the dead to protect him from Scarab. They use the power of Ra to transform into powerful guardians. Click here to read more and watch the intro »
No Comments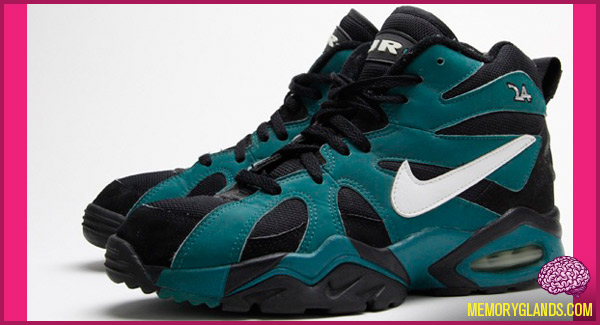 The first signature sneaker for Ken Griffey Jr. was seen during year 1996 that was one of the most important years of his career.
"Ken Griffey Jr. flaunts a colorful specially devised for him and we hope this pair to become a success. Featuring a turquoise/black-white colorway, this sneaker looks great with its special pattern. Dark turquoise and black cover the upper base in almost equal proportions. This uniformity is broken by presence of a white leather Nike Swoosh. Don't miss to watch the "JR" logo on the tongue tag and Ken's number "24″ stitched on sides. A visible air unit is also present."
No Comments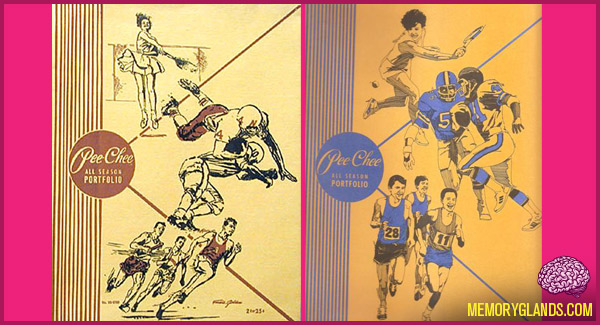 The yellow Pee Chee All Season Portfolio was a common American stationery item in the second half of the 20th century, commonly used by students for storing school papers. It was first produced in 1943 by the Western Tablet and Stationery Company of Kalamazoo, Michigan. Pee Chees were later produced by the Mead Corporation.
These relatively inexpensive folders were made of card stock and had two internal pockets for the storage of loose leaf paper. The pockets were printed with a variety of reference information including factors for converting between Imperial and metric measurement units, and a multiplication table. The folders had fallen out of general use by the 2000s, but are available from Mead as of 2010.
The illustrations on Pee Chee folders changed occasionally over the years, but usually depicted high school age students engaged in sports or other activities. The major difference from the Pee Chee and other paper folders were the inside pockets. Pee Chee had pockets located at the sides, not the bottom, which prevented the contents from falling out if the folder was inadvertently stored upside-down.
1 Comment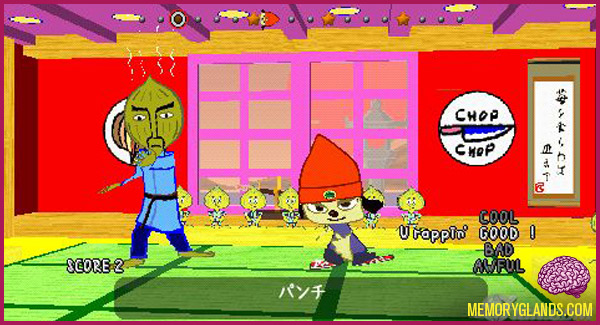 Parappa the Rapper is a rhythm video game for the Sony PlayStation created by Masaya Matsuura (the former leader of the Japanese "Hyper Pop Unit" PSY S) and his NanaOn-Sha company. Released in Japan on December 6, 1996, followed by releases in North America on October 31, 1997 and Europe in September 1998, it was one of the first rhythm video games.
While the gameplay is not challenging for experienced gamers, the game is remembered for its unique graphic design, its quirky soundtrack and its bizarre plot. Despite being made in Japan, all of the game's songs and dialogue are spoken in English in all versions. The game is named after its protagonist, Parappa, a rapping dog with the motto, "I gotta believe!".
It spawned a merchandising campaign in Japan, a spinoff in 1999, an anime series in 2001, and a direct sequel for PlayStation 2 in 2002. A PlayStation Portable port of the original game was released in Japan in December 2006 in North America and Europe in July 2007. Click here to watch a clip from the game »
1 Comment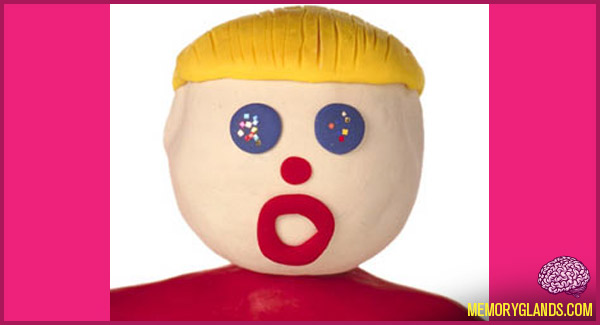 Mr. Bill is the clay figurine star of a series of short subjects shown from 1976 to 1980 on Saturday Night Live (SNL). The "Mr. Bill Show" was a parody of children's shows.
Mr. Bill got its start when Walter Williams sent SNL a Super-8 reel featuring the character in response to the show's request for home movies during the first season. Mr. Bill's first appearance occurred on the February 28, 1976 episode. Williams became a full-time writer for the show in 1978, writing more than 20 sketches based on Mr. Bill. Click here to read more and see a clip of Mr. Bill »
3 Comments