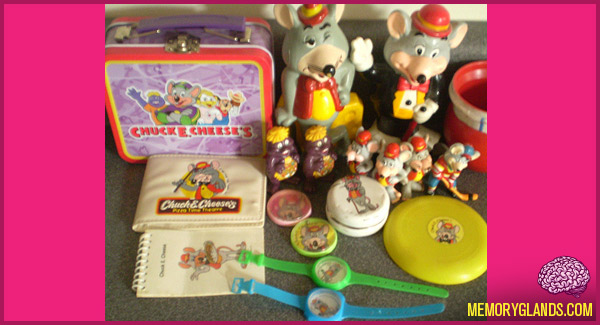 Chuck E. Cheese's (formerly Chuck E. Cheese's Pizza Time Theatre and Chuck E. Cheese's Pizza) is a chain of family entertainment centers. Chuck E. Cheese's is the main brand of CEC Entertainment, Inc., (NYSE: CEC) with its headquarters in Irving, Texas.
The concept is a sit-down pizza restaurant, complemented by arcade games, amusement rides, an animatronic show, and other diversions, such as climbing equipment, tubes, and slides − all mainly directed at younger children. The brand is represented by Chuck E. Cheese, an anthropomorphic mouse.
The company was founded as Chuck E. Cheese's Pizza Time Theatre by Nolan Bushnell in 1977, officially being labeled as the first family restaurant to integrate food, animated entertainment, and an indoor arcade. Click here to watch a clip of Chuck E. Cheese's on Unwrapped »
5 Comments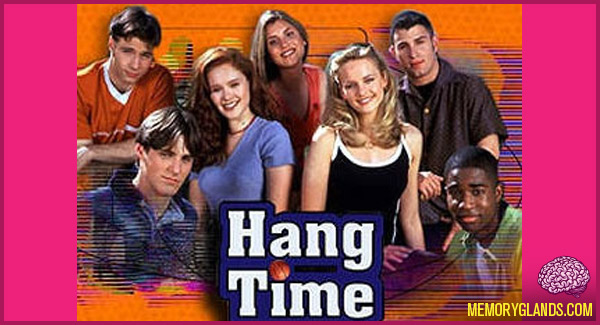 Hang Time is an American teen sitcom that aired from 1995–2000. It aired on Saturday mornings on NBC as part of the network's TNBC morning block. It was created by Troy Searer, Robert Tarlow, and Mark Fink. Producer Peter Engel took over Fink's duties at the start of Season 2 after Mark Fink decided to leave the show. The show was about a boys' high school basketball team, the Deering Tornadoes, with one of the players being a female at a fictional Indiana high school. The show lasted six seasons, during which the cast was changed almost in its entirety. Only two castmembers (Daniella Deutscher and Megan Parlen) stayed with the show throughout its entire run, similar to Saved by the Bell: The New Class. Click here to see the season one intro »
1 Comment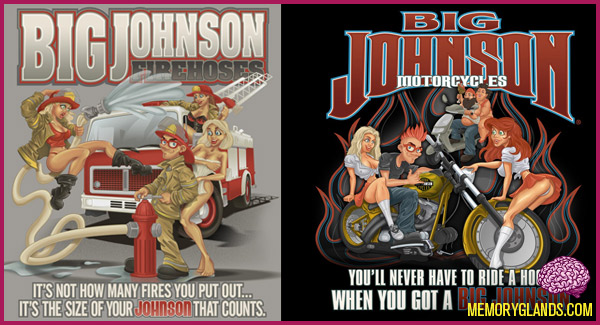 Big Johnson is a brand that is marketed by Maryland Brand Management, Inc. (MBM), known for its T-shirts featuring E. Normus Johnson depicted in comic art featuring humorous sexual innuendos. MBM is the successor company to Maryland Screen Printers Inc. (MSP) and G & C Sales, Inc. At the height of Big Johnson's success in the 1990s, it sponsored a Big Johnson NASCAR automobile and MSP was twice listed in the Inc. list of America's fastest growing companies. The sexual innuendo has been controversial leading to court rulings banning sales in federal buildings and corporate decisions banning wearing the shirts.
In 1995, the company's products became part of a United States Constitution First Amendment case when a gift shop proprietor at the National Fire Academy in Emmitsburg, Maryland was forced by a U.S. District Court ruling to take sexually suggestive T-shirts and cards out of his store, which was located in a federal building. The order noted that "The sale . . . of items which denote sexually offensive and discriminatory statements, depictions or pictures is in violation of federal law and presents a hostile and sexually offensive environment". The proprietor sought an injunction against the U.S. Fire Administration. A few months after the ruling, the case was settled with the gift shop being granted expanded space in exchange for surrendering the right to sell the offending materials. Although both Disney World and Kings Dominion, are both large customers of MBM, Big Johnson shirts are banned in their amusement parks. Big Johnson has expanded beyond E. Normus Johnson shirts with lines of shirts for firefighters, police, and bikers.
No Comments
| | | |
| --- | --- | --- |
| | | |