03.28.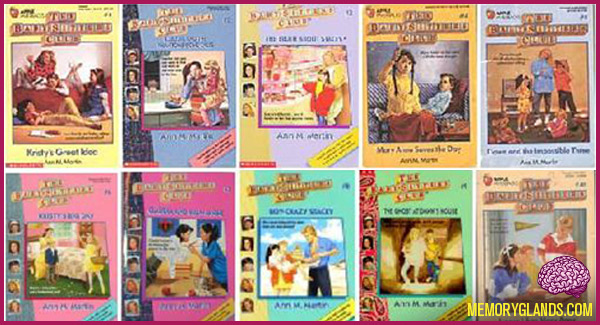 The Baby Sitters Club (BSC) is a series of children's books written by Ann M. Martin and published by Scholastic between 1986–2000, that sold 176 million copies. Many of the books were ghostwritten, including 43 by Peter Lerangis. However, Ann Martin wrote the first 35 books.
The series is about a group of middle school students living in the fictional town of Stoneybrook, Connecticut. They run a business called the Baby-sitters Club that helps parents find babysitters from the club available for jobs by calling during their club meetings. Meetings take place Monday, Wednesday, and Friday from 5:30 p.m. to 6:00 p.m. The club runs financially on dues and fundraising, and the babysitters write diaries of their jobs to help each other. The members of the club are also best friends, although they go through many conflicts throughout the series.
The club starts out with four members (Kristy Thomas, Mary Anne Spier, Claudia Kishi, and Stacey McGill), eventually expanding to ten. All of the main characters are thirteen, with the exception of junior members Mallory Pike and Jessica Ramsey, who are two years younger. When the club was founded (in 1986), the four members were in the seventh grade, but ten books later (1988), they are promoted to the eighth grade. From there, they are frozen in time until the very end of the series (2000), in which they graduate from middle school.
As of December 31, 2009, the Baby-sitters Club series is out of print. However, in April 2010 the series will be reissued with updated versions of the first two volumes of the original series, as well as a newly written prequel.
7 Comments