07.12.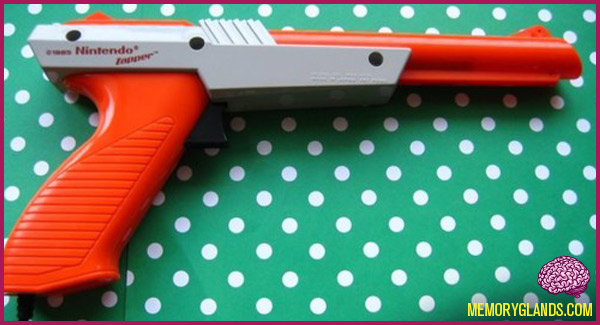 The NES Zapper, also known as the Beam Gun in Japan, is an electronic light gun accessory for the Nintendo Entertainment System (NES) and the Japanese Famicom. It was released in Japan for the Famicom on February 18, 1984 and alongside the launch of the NES in North America in October 1985. The Famicom version of the Zapper, made for the game Wild Gunman, resembled a revolver-style handgun, but the North American version resembled a futuristic science fiction ray gun with a colour scheme matching the NES. Early versions of the Zapper were a dark gray, but its color was later changed to orange, as was now required for all "toy guns" under U.S. Federal Regulations.
Although originally included in some configurations of the NES, the Zapper was available for purchase separately.
The Zapper allows players to aim at the television set display and shoot various objects such as ducks, clay pigeons, targets, cowboys, or criminals, or other objects.
The Zapper was first released in 1985 with the launch of the NES in North America. It came bundled with the NES console, the Robotic Operating Buddy and two games—Duck Hunt and Gyromite.
The Zapper is used on supported NES games such as Duck Hunt and Wild Gunman. To hit targets on the screen, players point the device by lining up the front and rear sights with the desired target and pulling the trigger. The Zapper could also be used on the title screens of games to move the cursor—done by pointing the device away from the screen and pulling the trigger—or starting the game (pointing at the screen and pulling the trigger).
When the trigger on the Zapper is pressed, the game causes the entire screen to become black for one frame. Then, on the next frame, the target area is drawn in all white as the rest of the screen remains black. The Zapper detects this change from low light to bright light, as well as at which screen position the change was detected. This is how the game knows which target has been hit. Because of the way the Zapper works, it can only be used on CRT displays. It will not work on LCDs, plasma displays or other flat panel displays. A little unknown glitch about the zapper is you can get a perfect hit score every time by simply pointing the gun right next to and into a light bulb. After all target areas have been illuminated, the game returns to drawing graphics as usual. The whole process is almost imperceptible to the human eye, although one can notice a slight "flashing" of the image.
No Comments