03.30.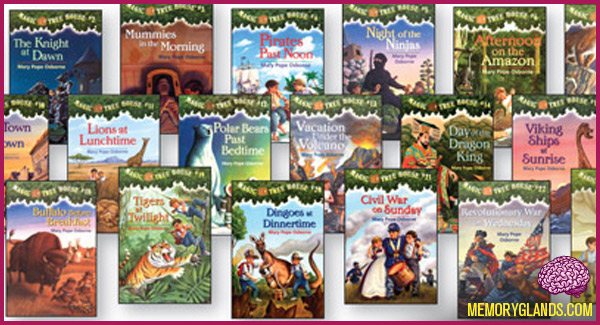 The Magic Tree House series is an award winning series of children books written by American author Mary Pope Osborne.
In the first series, consisting of the first 28 books, Morgan le Fay sends Jack and Annie, two normal children from Frog Creek, Pennsylvania, on numerous adventures and missions with a magical tree house in order to help free Morgan from a spell, solve four ancient riddles to become Master Librarians, and save four ancient stories from being lost forever. After the twenty-eighth chapter book, Mary Pope Osborne started a second series called the Magic Tree House "Merlin Missions". In these missions, Jack and Annie have quests from the ancient wizard Merlin the Magician. These books are longer than the previous 28, and some take place in fantasy realms like Camelot.
All together, there are 46 fiction books named. Their titles are listed below. In addition, a number of Magic Tree House Research Guides (nonfiction companions to the series) have been written by the author, her husband Will and her sister Natalie Pope Boyce. These books contain more information about the historical places and events which Jack and Annie visit in the Magic Tree House Series. Right now, twenty have been released. Two more are listed as future books, so a total of twenty-two are named.
The series is translated into Japanese up to Book #39, and sold over 2 million copies as of March 2008. The Japanese version has anime-like illustrations.
A musical was written by Randy Courts and Will Osborne (Mary's husband). It toured to 55 cities in the 2008-2009 season and is scheduled to tour again in fall 2011.
An animated film from Media Factory is currently in the works in Japan for a 2012 theatrical release.
2 Comments