12.22.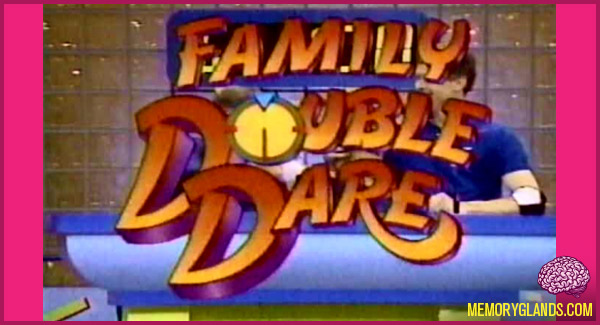 Family Double Dare premiered on Fox on April 3, 1988, and aired on Saturday nights. The team size was increased to four as kids and their parents competed. This series was conducted with a much larger budget as the Obstacle Course total haul could exceed $30,000. The game was conducted in the exact same manner as regular versions of Double Dare, with different question and physical challenge values (see table at top of page). Family Double Dare only aired for thirteen weeks on Fox and ended due to actions taken by Viacom & Nickelodeon, who co-produced the series; Fox insisted on taking away the families and instead replacing them with celebrities, and both Viacom and Nickelodeon balked.
After being out of production for two years, Family Double Dare returned to Nickelodeon beginning in August of 1990. Nickelodeon produced the series at Nickelodeon Studios in Orlando. Airing on Saturday and Sunday evenings, the series continued until 1993.
As noted above, the final season employed a Tournament of Champions. Four families qualified, with the spots given to the two highest scoring families and the two that completed the Obstacle Course in the fastest time. The two highest scoring families, dubbed "Brains", played one round of the game without running the obstacle course, and the two fastest obstacle course families, dubbed "Brawn", played in a second one-round game. The winning families then played in the second half of the hour-long program, with the winning family receiving a trophy and a chance to win a car by completing the obstacle course (which the winning family, "Granite Toast", did).
Family Double Dare reruns continued up to February 1999 on Nickelodeon. From February 1999 until November 1, 2005, Family Double Dare was on Nick GaS.
No Comments