06.06.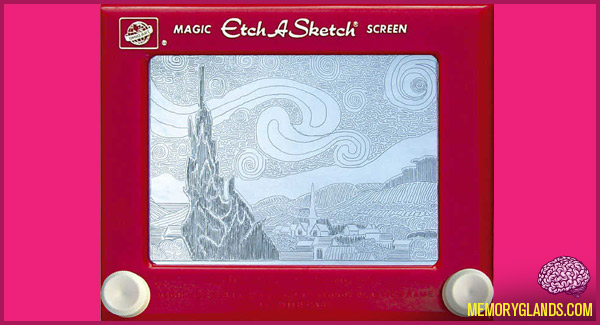 Etch A Sketch is a registered trademark for a mechanical drawing toy manufactured by the Ohio Art Company.
An Etch A Sketch is a thick, flat gray screen in a plastic frame. There are two knobs on the front of the frame in the lower corners. Twisting the knobs moves a stylus that displaces aluminium powder on the back of the screen, leaving a solid line. The knobs create lineographic images. The left control moves the stylus horizontally, and the right one moves it vertically.
The Etch A Sketch was introduced near the peak of the Baby Boom, and is one of the best known toys of that generation. In 2003, the Toy Industry Association named Etch A Sketch to its Century of Toys List, a roll call commemorating the 100 most memorable and most creative toys of the 20th century. It remains popular to this day.
1 Comment