Folders
09.21.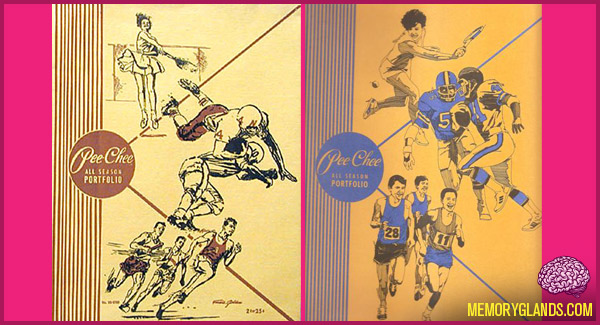 The yellow Pee Chee All Season Portfolio was a common American stationery item in the second half of the 20th century, commonly used by students for storing school papers. It was first produced in 1943 by the Western Tablet and Stationery Company of Kalamazoo, Michigan. Pee Chees were later produced by the Mead Corporation.
These relatively inexpensive folders were made of card stock and had two internal pockets for the storage of loose leaf paper. The pockets were printed with a variety of reference information including factors for converting between Imperial and metric measurement units, and a multiplication table. The folders had fallen out of general use by the 2000s, but are available from Mead as of 2010.
The illustrations on Pee Chee folders changed occasionally over the years, but usually depicted high school age students engaged in sports or other activities. The major difference from the Pee Chee and other paper folders were the inside pockets. Pee Chee had pockets located at the sides, not the bottom, which prevented the contents from falling out if the folder was inadvertently stored upside-down.
1 Comment
04.16.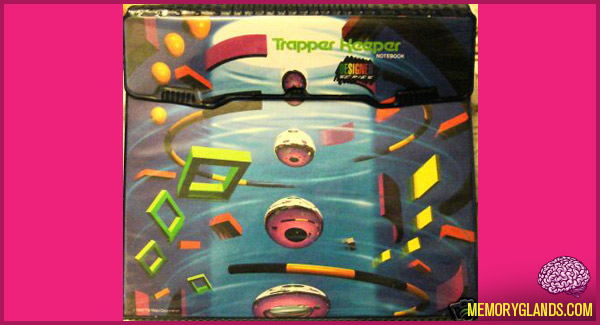 Trapper Keeper is a brand of loose-leaf binder created by Mead. Popular with students in the United States and parts of Latin America from the 1970s to the 1990s, it featured sliding plastic rings (instead of standard snap-closed metal binder rings), folders and pockets to keep schoolwork and papers, and a wraparound flap with a Velcro closure (originally a metal snap closure).
The binder got its name because it was sold in combination with pocket folders designed by Mead called "Trappers". Trappers were different from other pocket folders in that the pockets' three sides connected with the bottom, outside edge, and top (as opposed to the bottom, outside edge, and spine of most pocket folders). This design prevented papers from falling out of the Trapper's pockets when it was closed. Trappers were three-hole punched so that they could be put in any notebook, including Trapper Keeper.
8 Comments