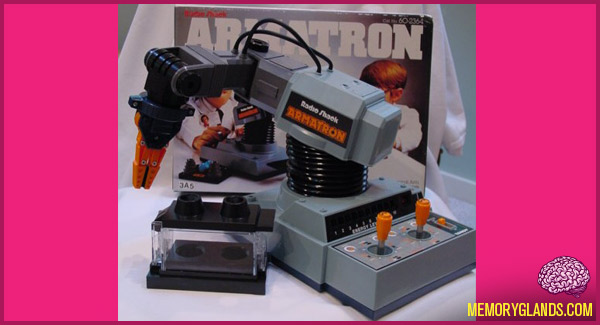 The Armatron was a toy robot from the 1980s made by TOMY and distributed by Radio Shack in the United States. It consisted of a crane-like arm with two attached joysticks which could be manipulated to pick up small objects. It is essentially similar to industrial robots of the 1980s, though it is strictly user-controlled, with no automation built in.
The Armatron existed in both the original fixed version and a mobile version with a wired remote. It included an "energy level" indicator (actually a countdown timer) and a series of objects such as boxes and spheres designed to be manipulated by the arm. Models with alternate decals or coloring were marketed under slightly different names, including the Super Armatron and the Armatron II. Click here to watch the Armatron in action »
3 Comments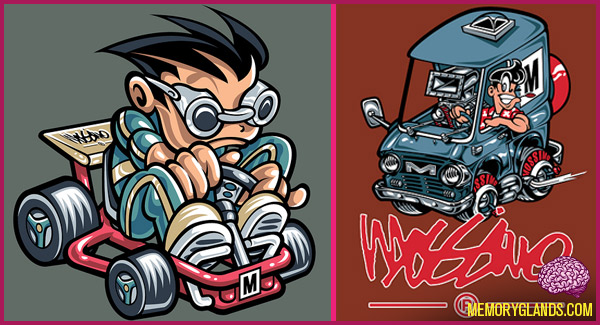 Mossimo is a mid-range American apparel company, founded in 1986 by designer Mossimo Giannulli, and currently owned by Iconix Brand Group. Mossimo specializes in youth, women, teenage, and adult male clothing such as shirts, jeans, jackets, socks, underwear and accessories. It draws from street, urban and sport styles.
Currently sold the US in 1700 stores, with international licenses in Australia, South America, Mexico, Japan and India totaling 600 stores.
1 Comment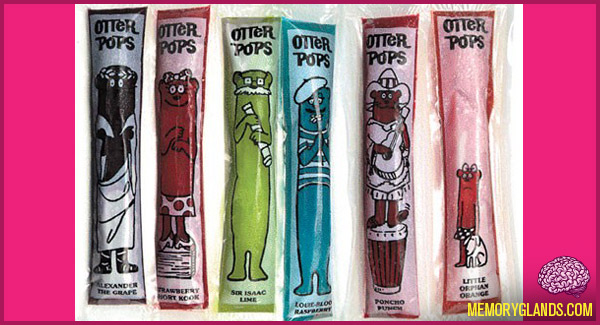 Otter Pops are a brand of frozen snacks sold in the United States. The product consists of a plastic tube filled with flavored sugary liquid. After freezing, one end of the tube is cut off, allowing the frozen juice to be eaten, something like a Popsicle without a stick.
Otter Pops were introduced by National Pax in 1970, to rival Jel Sert's similar product, Fla-Vor-Ice. In 1996, Jel Sert acquired the rights to Otter Pops, as well. During the 2000s, Jel Sert modified the recipe for Otter Pops to add more fruit juice. The new formula equates to three grams of sugar and 15 calories in each one-ounce serving. The company's manufacturing facilities are located in Chicago. Otter Pops come in eight flavors, each named after a different character:
Blue (blue raspberry) – Louie-Bloo Raspberry
Pink (tropical punch) – Poncho Punch
Yellow (lemon) – Rip Van Lemon (discontinued in the mid-1970s)
Green (lemon-lime) – Sir Isaac Lime
Red (strawberry) – Strawberry Short Kook
Purple (grape) – Alexander the Grape
Orange (orange) – Little Orphan Orange
Dark Green (kiwi) – Kiwi Kensie
Clear (mystery) – Mystery Miles
Jel-Sert has also released a line of tropical flavors, distinguished by their lighter colors:
Light Blue (berry punch)
Red (watermelon)
White (pineapple)
Pink (tropical punch)
Light green (citrus punch)
Yellow (banana)
No Comments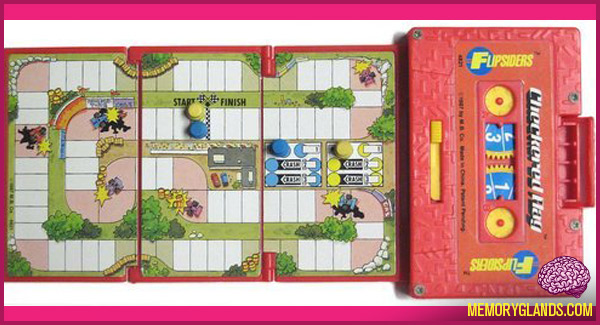 The Flipsiders series of games from Milton Bradley all came in plastic cases designed to look like audiotape cassettes. The board flips out from the cassette-sized case, and the "reels" of the cassette are spinners for random numbers or events. The magnetic pawns are stored in the part of the "cassette" where the tape heads normally would read/write the tape.
No Comments
Zoot Suit Riot: The Swingin' Hits of the Cherry Poppin' Daddies (often shortened to Zoot Suit Riot) is a compilation album by American ska-swing band the Cherry Poppin' Daddies, released on March 18, 1997 on Space Age Bachelor Pad Records.
Self-produced by the Daddies to satisfy demand for their swing material while the group was between studio releases, Zoot Suit Riot consists of only the straight swing tracks compiled from the band's first three albums – which were predominantly punk and ska-oriented – plus four bonus tracks recorded exclusively for this compilation.
Released independently in March 1997, Zoot Suit Riot was eventually re-issued and nationally distributed by major label subsidiary Mojo Records following the Daddies' signing to the label. By early 1998, steady airplay of its titular single propelled the album to the top of Billboard's Top Heatseekers, helping serve as a catalyst for the short-lived swing revival of the late 1990s. At its peak, Zoot Suit Riot reached number seventeen on the Billboard 200, selling over two million copies in the United States.
No Comments
| | | |
| --- | --- | --- |
| | | |