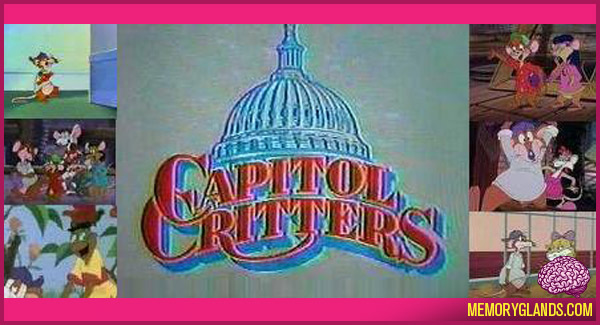 Capitol Critters is an animated television series about the lives of mice, rats, and roaches who reside in the basement and walls of the White House in Washington, D.C. The series was produced by Steven Bochco Productions and Hanna-Barbera Productions in association with 20th Century Fox Television for the ABC Television Network, which aired seven out of the show's 13 episodes from January 31, 1992 to April 17, 1992. Cartoon Network began airing all 13 episodes in 1995.
The series was part of a spate of attempts by major networks to develop prime time animated shows to compete with the surprise success of Fox's The Simpsons (also produced by 20th Century Fox Television), alongside CBS's Fish Police and Family Dog. All three were canceled in their first season as they were not successful. Click here to watch the intro »
No Comments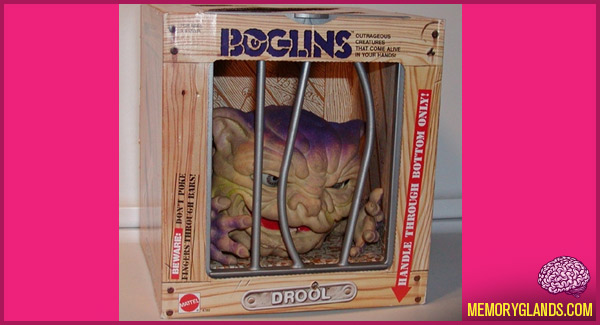 Boglins were rubbery hand puppets that resembled small monsters, goblins and aquatic creatures. The Boglins were part of the "monster creatures" craze during the late nineteen eighties, which included Ghoulies, Critters, Ghostbusters, and Gremlins. Generally, the Boglin puppet was aimed at small children (boys in particular) from eight to eleven, as they were popularly used for frightening others, but have become valuable collectibles in recent years. Their purpose can be summed up fairly accurately with their commercial slogan: "If you take us home, we'll kiss your Aunt Martha, we'll eat your peas, and we hope you know lots of girls."
They were characterized by their unique packaging (a cardboard box with a plastic "cage" entrance) and by movable eyes and mouth. Boglins were manufactured by a number of companies including Action GT and Ideal and distributed by Mattel. They became very popular in both the United Kingdom and USA, and their popularity is believed to have reached its peak thanks to a deal with Kellogg's in 1989, to use them in promotions contained in, and on, boxes of Rice Krispies cereal, including rubber stampers, stamp collections, cut-out masks and an exclusive set of Mini Boglins.
Boglins were also characterised by their varying "genus" and unique form, which entailed a pair of arms, no legs, and a flatish body. The cult status of Boglins in the past has been so great that they have made appearances in other media. Click here to watch the commercial »
4 Comments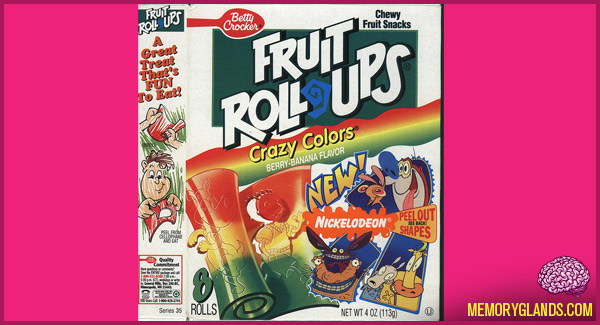 Fruit Roll-Ups is a brand of fruit snack that debuted in grocery stores across the United States in 1983. Research for the product began in 1975. Fruit Roll-Ups are manufactured by General Mills and distributed under the Betty Crocker brand in the United States. The snack is a flat, pectin-based fruit-flavored candy, wrapped around a piece of cellophane for easier removal. Often the consumer must unwrap the cellophane an extra revolution in order to remove the snack due to its tendency to stick to itself. Fruit Roll-Ups is similar to Fruit by the Foot (also a General Mills Snack) in that both snacks are packaged similarly (i.e., rolled around a material so the product does not stick to itself); however, the two snacks differ with respect to taste, texture, and consistency. In the United States, retail Fruit Roll-Ups are sold in boxes of 10. Click here to watch a commercial from 1994 »
1 Comment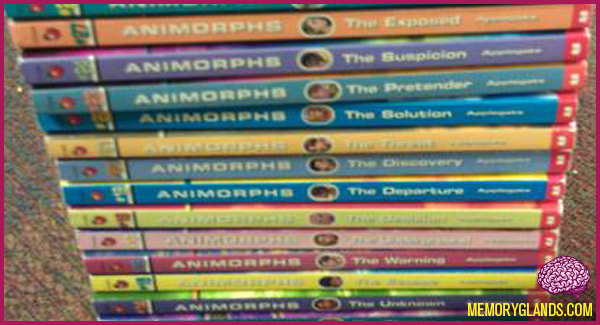 Animorphs is an English language science fiction series of young adult books written by K. A. Applegate and published by Scholastic. Five humans, Jake, Marco, Cassie, Rachel, and Tobias, and one alien, Aximili-Esgarrouth-Isthill (nicknamed Ax), obtain the ability to morph into any animal they touch. They name themselves "Animorphs", a portmanteau of "animal morphers". Using their ability, they battle a secret alien infiltration of Earth. It is told in first person, with the Animorphs taking turns narrating the books. Applegate cycles through the six protagonists, telling their story of the secret war through each of their perspectives. Horror, war, dehumanization, sanity, morality, innocence, leadership, and growing up are core motifs of the series.
Published between June 1996 and May 2001, the series consisted of 54 books and includes ten companion books, eight of which fit into the series' continuity (the Animorphs Chronicles and Megamorphs books) and two that are gamebooks not fitting into the continuity (the Alternamorphs books). The characters grow up throughout the series, struggling to cope with the compromises and retreats they must make to win the war. The series allows the reader to observe the human condition as the characters are forced by their new, deadly circumstances to face the darkest, and also the brightest, parts of themselves. The series was originally conceived as a three-part series called The Changelings, in which Jake is named Matt, and his little brother Joseph takes the place of Cassie.
1 Comment
| | | |
| --- | --- | --- |
| | | |