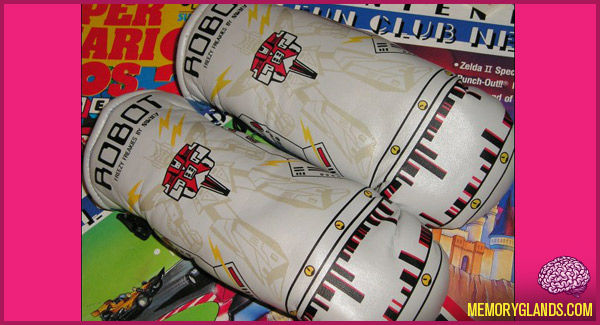 Freezy Freakies were a winter fad in the early to mid 1980s. They were snow gloves, created by ski glove company Swany America that revealed fun colors and designs when exposed to cold temperatures. The gloves came in many designs, which catered to young kids. One design was of a fighter plane, and another was a pink castle scene. Click here to watch a commercial »
1 Comment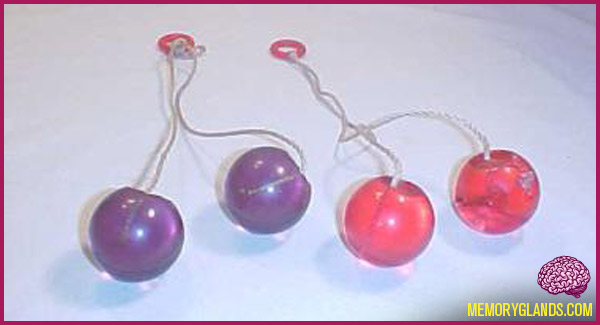 Clackers are toys which were popular in the late 1960s and early 1970s. They consisted of two 2 cm, hard balls suspended on string which were swung up and down so they banged against each other, making a clacking sound. Clackers are similar in appearance to the Argentinian weapons, bolas.
They are formed out of two hard plastic balls, each about two cm in diameter, attached to a tab with a sturdy string. The player holds the tab, with the balls hanging below. Through a gentle up-and-down hand motion, the two balls swing apart and back together, making the clacking noise that give the toy its name. With practice, it is possible to make the balls swing so that they knock together above the hand as well as below.
4 Comments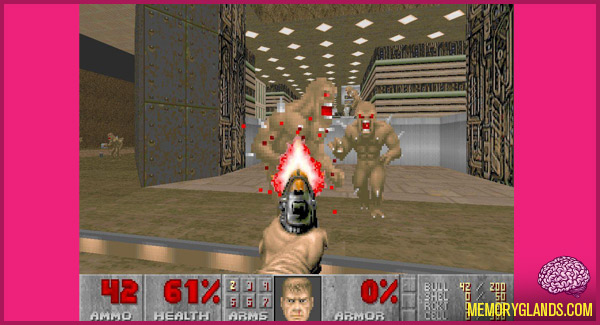 Doom (typeset as DOOM in official documents) is a landmark 1993 first-person shooter video game by id Software. It is widely recognized for having popularized the first person shooter genre, pioneering immersive 3D graphics, networked multiplayer gaming, and support for customized additions and modifications via packaged files in a data archive known as "WADs". Its graphic and interactive violence, as well as its Satanic imagery, also made it the subject of considerable controversy. In Doom, players assume the role of a space marine who must fight his way through a military base on Mars' moon, Phobos and he must kill the demons from Hell. Click here to read more and watch some gameplay »
2 Comments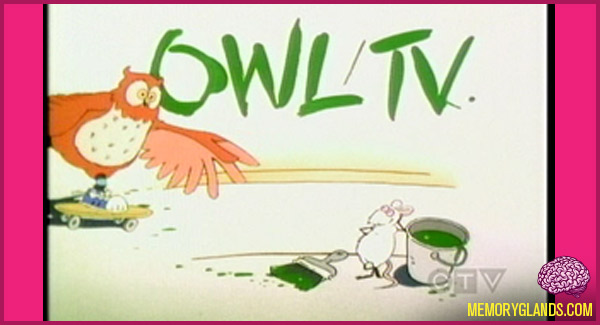 OWL/TV is a children's educational television series that aired on the CBC, and then later on CTV, from 1985 to 1994. Its focus is nature and science discovery, emphasizing to viewers how they can have an impact on their own environment. PBS, BBC, ITV and Showtime also aired the show for a brief period. Reruns of the show have aired on YTV, and CTV.
No Comments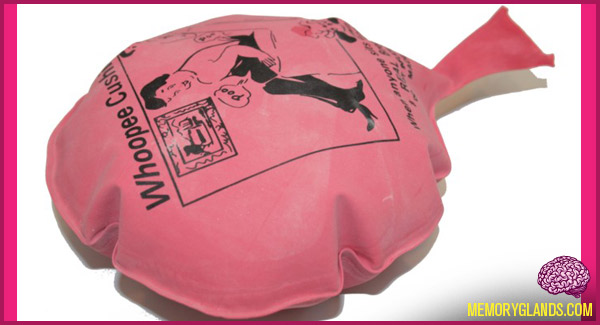 A Whoopee Cushion, also known as a poo-poo cushion and Razzberry Cushion, is a practical joke device, used in a form of flatulence humor, which produces a noise resembling a raspberry or human flatulence. It is made from two sheets of rubber that are glued together at the edges. There is a small opening with a flap at one end for air to enter and leave the cushion.
In the 1990s, a new era of technology allowed the production of self-inflating whoopee cushions (which use a springy foam to draw in more air) and remote-controlled whoopee cushions (electronic devices). In 2009, the world's largest production whoopie cushion called The Big Ripper was created by Redemption Plus.
5 Comments